Aqua Shard | 31st Floor Restaurant & Bar
We found your secret list of "best places to go for power breakfasts, cocktails at sunset and killer dates".
It's a pretty good list. But it could be better.
Allow us to introduce Aqua Shard – the sort of scene-stealing location that film-makers will be tripping over themselves to secure for those all-important scenes where "Lucky Girl A" visibly melts in Clooney's seductive gaze, oblivious to the jaw-dropping panoramic views of London behind him.
Unlike Oblix and the other restaurants in the Shard, Aqua Shard's been cleverly designed with an understated minimalism that puts the London skyline – visible, almost in its entirety, through huge floor to ceiling windows – at the very heart of the diners' experience (and which, for the price of admission to the Shard's official viewpoint over London, you can enjoy with a cocktail in hand).
Here's what you can find at Aqua Shard, at any given hour of the day…
–
MORNING
Turns out that coffee and croissants do taste better with a bird's eye view of London. Served on weekends, brunch is definitely made to feel like the most important meal of the day at Aqua Shard – a three-course menu bringing the kind of decadence you'd expect from a restaurant hundreds of metres above the ground. Eggs Benedict and pancakes are but mere starters in a banquet offering sirloin steaks, lobster thermidor and Full Englishes, with treacle tarts and deconstructed cheesecakes to finish. It is, in a word, superb. And if you so choose, you can even have a sommelier pair each dish with the perfect glass of wine.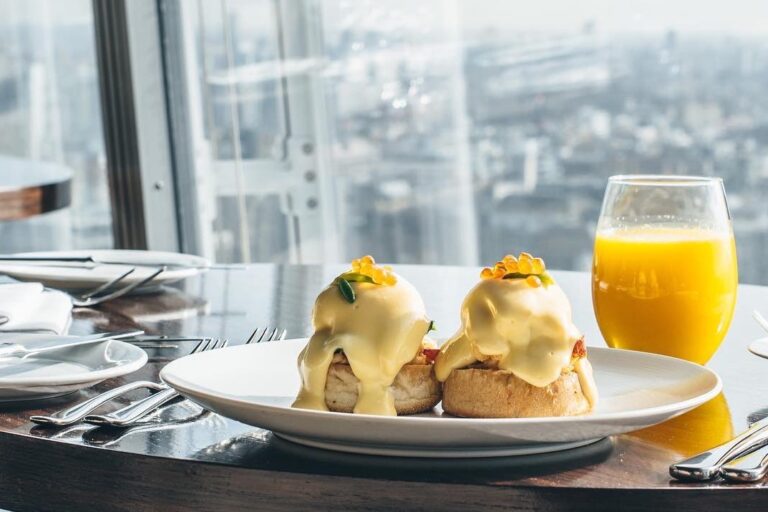 –
AFTERNOON
For lunch at Aqua Shard, the most sensible move is to go for the 3-course set menu. Blessed with horizontal, if not vertical, proximity to Borough Market, the emphasis here is on well-sourced, market-fresh ingredients from independent suppliers, so expect dishes like slow-cooked Dingley Dell pork belly; Isle of Wight heirloom tomato salad with Wiltshire mozzarella (who knew); and pavlova with Kent strawberries and Champagne sorbet.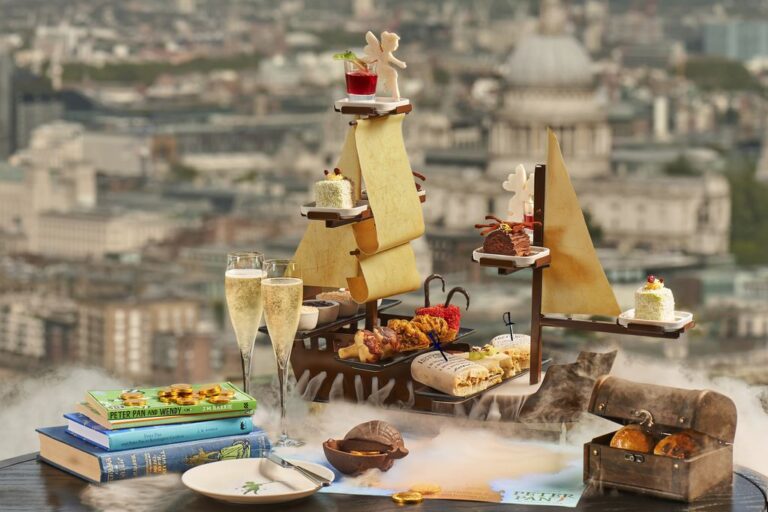 As the afternoon winds on, mothers everywhere are swept across the city here for the ultimate afternoon tea in London. As well as the views (did we mention those?), it's got everything you could ask for – the current Peter Pan themed offering arrives on a smoking pirate ship, complete with absinthe fairy cocktails and crocodiles trapped in tea jelly.
–
EVENING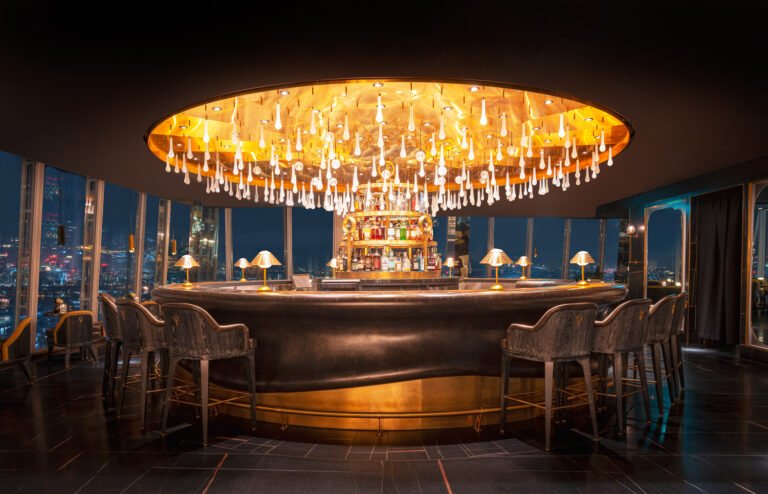 As dusk falls, Aqua Shard really comes into its own. You'll take in London by day with a pre-sunset cocktail or two in the large atrium bar (try the Fig Manhattan or the white espresso martini), before either being seated for dinner in the 'tea' wing – with views over Tower Bridge and Canary Wharf – or the west facing 'gin' wing, overlooking St. Paul's, Westminster and the London Eye. And at some point – possibly midway through your rock oysters gratin or Barbary duck breast – you'll notice that it's night time; that Aqua's polished surfaces are now seductively glistening in candlelight…
… and that you're enjoying one of the best views in the world.
NOTE: Aqua Shard is open daily – you can book online right HERE. There's a smart casual dress code (no sportswear/flip-flops, etc) and bar-only bookings have a minimum spend of £50pp. 
Aqua Shard | 31st Floor, The Shard, 31 St. Thomas Street, SE1 9RY 
---
Suffer from vertigo? Book into one of these other excellent restaurants in London Bridge