BAO Soho | Steamed Buns Etc
Life is short.
So fill it with pork belly confit steamed milk buns.
Plus other important stuff, like friends, family, health… and more pork belly confit steamed milk buns.
The most important of which, you can of course get at BAO: a small, slick Taiwanese street food-esque restaurant serving small plates, sides and – of course – steamed milk buns, right in the heart of Soho. It's run by husband and wife head chef team Shing Tat and Erchen Chang, and Erchen's front of house sister (literally) Wai Ting Chung.
Their story goes something like this… They travelled Taiwan, found inspiration from the Xiao Chi or 'small eats' restaurants in Taipei, returned to London, popped up at Pacific Social Club, opened a six seater bar and bun stall on Netil Market, and finally now – with the expert backing of the team behind Trishna, Bubbledogs, Kitchen Table, Gymkhana, Hoppers and Lyle's – are the proud owners of a fully functioning restaurant.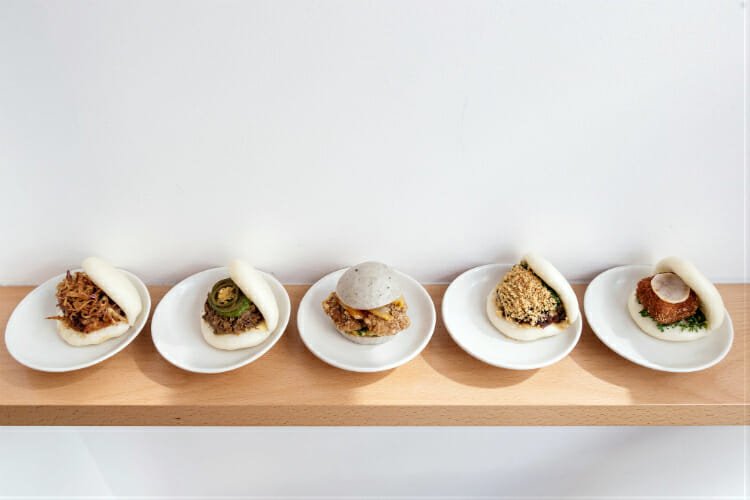 Pop along and – after being greeted and shown to a table – you'll be given a small paper menu, a pencil, and one job: circle and select the items you want on the menu, give it back to the waiter, and prepare yourself for steamed buns like braised pork sprinkled with peanut powder and coriander; burger baps wrapped around soy-milk-marinated chicken with Sichuan mayo and kimchi; and sides like 40 day rump cap with aged white soy sauce. For drinks, there's hot oolong and cold foam Taiwanese teas, soft drinks, craft beers, three Japanese sakes, and a rotating selection of English ciders.
Then, to finish: the dessert bao, which – considering it's made from pan fried doughnut batter filled with dripping Horlicks ice cream – is both unquestionably heart attack-inducing, and totally worth it.
Because life is short.
NOTE: You can't make a reservation at BAO – just walk in. Ooh, unless you want to book into their private dining area, which is always a good idea.  Generally they serve lunch Monday – Saturday from 12pm – 3pm and dinner from 5:30pm – 10pm. For any questions or queries, please email info@baolondon.com or visit its website HERE.
Bao Soho | 53 Lexington Street, W1F 9AS
---
Like being in the loop about great places to eat in London? Check out our guide to the Best Recently Opened Restaurants