Kebabs.
They often get skewered.
But Berenjak is part of the new wave of shish-based restaurants (spearheaded by the likes of Le Bab & Bababoom) hoping to give the proteinous treats the platform they deserve, and bringing a more authentic, less Westernised flavour back to the dish.
In this case, it comes to us from chef Kian Samyani, who previously manned the pans at Brigadiers and Michelin-starred Gymkhana (and in fact, this place is opened with backing from their founders, the Sethi siblings). Here he's drawing on the Iranian home cooking he grew up on, as well as the recipes of Tehran hole-in-the-wall kabab vendors.
Walking inside, you'll be pleased to note that the hole-in-the-wall inspiration has not extended to the space itself, which evokes a creative mash-up of traditional and modern styles: stripped plaster & exposed brick rub shoulders with Persian rugs and stained glass windows. The place has a rich, earthy colour palette, and it all seems very well lived-in – there's even a plant-covered wall at the back of the dining space that almost appears to have its greenery growing out behind the very plasterwork itself.
Behind the long open kitchen you can see the grills, rotisseries, and tandoors that they're making everything with, including appetite whetters like their clay-baked seeded sourdough flatbread; coal-cooked aubergine with whey, walnuts, and dried mint; or some black chickpea hummus with sumac.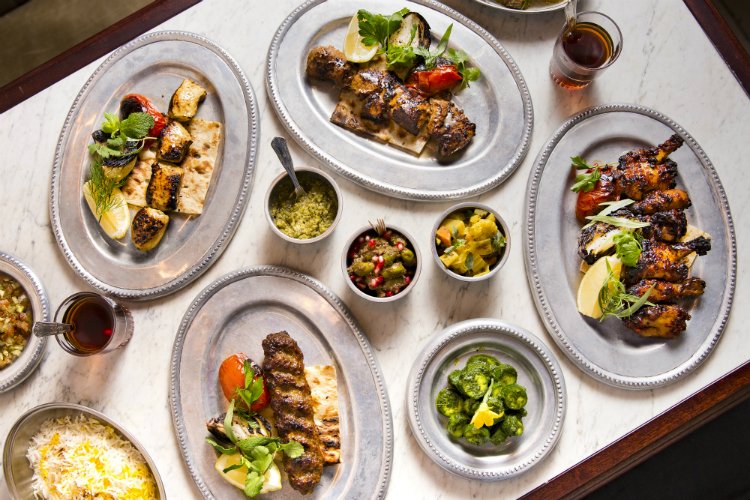 The kebabs themselves include inventive numbers like guinea fowl with saffron, potatoes, and barberries; and goat shoulder with onions and black pepper. Of course, if you're in the market for something a little less off-piste, then you can always go for some equally tasty lamb rump marinaded in chilli, tarragon, and yoghurt; or good ol' chicken breast with lemon & saffron.
Because alcohol is more or less illegal in Iran they're serving the local favourite 'sharbat'; a chilled cordial served with sparkling water & swizzled with fresh herbs. And because alcohol is more or less compulsory in the UK, they're spiking those sharbats with booze, meaning you can get preserved lemon with parsley (plus optional vodka & bergamot); black lime with mint (gin & apricot); blackcurrant with honey (cherry & tequila); and more.
And in the spirit of economy, there's also one lager (brewed with Persian limes), one pale ale, one house red, one house white, and but one cocktail made with whisky, apricot, and fig leaf…
…which just covers the essentials, really.
NOTE: Berenjak is open Mon-Wed 12-3pm and 5.30-10.30pm; Thur-Fri 12-3pm, 5.30-11pm and Saturday 12-11pm. You can find out more, and book, on their website HERE.
Berenjak | 27 Romilly Street, W1D 5AL
---
Like being in the loop about the latest new openings? Check out our guide to the best recently opened restaurants in London