The huge, built-to-be-iconic postmodern brick building in East London that was once The Curtain Hotel has now changed hands and become Mondrian Shoreditch, opening with the world's fifth – but London's first – BiBo restaurant on the ground floor.
For those who aren't au fait with the comings and goings of the Andalusian dining scene – and shame on you guys – BiBo comes to us from chef Dani García, who scored three Michelin Stars with his self-named restaurant in the southern Spanish region. After that, he decided to open his first BiBo restaurant, a brasserie-meets-tapas bar concept which has gone from strength to strength and now resulted in this first London outpost (which is also García's first in the UK).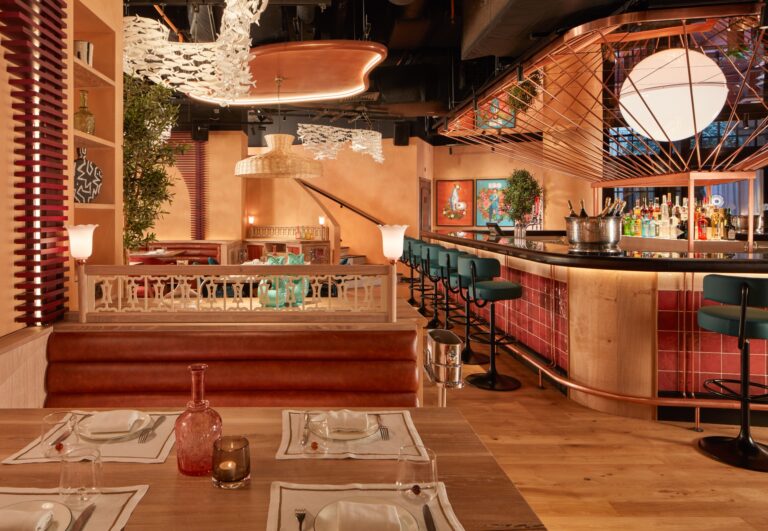 Inside, BiBo has a relaxed, modern Spanish countryside vibe, with clay walls, light oak floors, and a burnt-red tile bar all flooded with plenty of natural light. That bar is kind of the centrepiece of the restaurant, and it's built around a huge cartwheel-sized globe light housed in a giant, diamond-shaped cage of red spokes. Then, just outside, there's a small courtyard for al fresco dining, filled with greenery and conveniently covered in a retractable glass roof.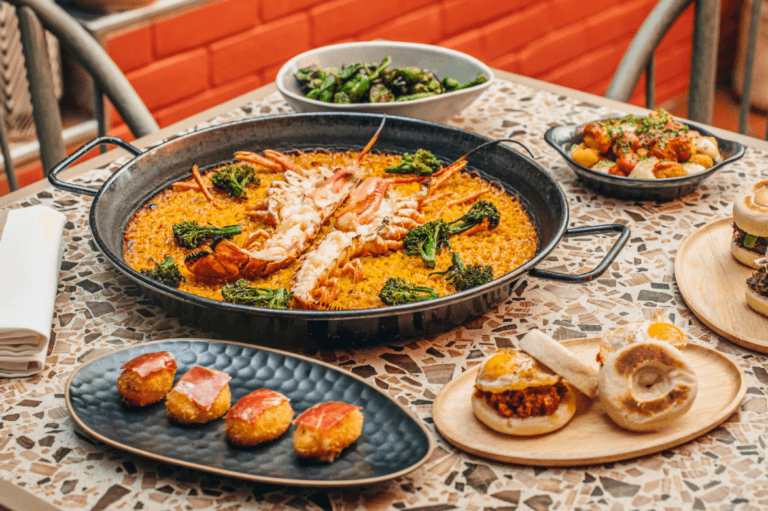 The menu features tried-and-tested dishes from both Garcia's other BiBo branches and his showstopper fine-dining restaurant. You can find everything from his famed oxtail brioche (a pulled oxtail brioche sandwich with thin mushroom slices) to plates of raw, delicate corvina fish with yellow pepper sauce; while less tapas-y / more brasserie-y sized offerings include a whole deep-fried sea bass, a classic lobster paella and a Txuleta steak that comes from Basque dairy cows (considered by some to be the finest steaks on earth).
To drink, you'll find a range of cocktails at the bar – the Mrs Violet comes in an elegantly tall and precariously slender glass filled with gin, elderberry syrup and shiso leaves, all topped with a brittle layer of violet caramel, while the Smoked Pumpkin Whisky Sour is theatrically served inside a smoke-filled glass dome. On top of that there's a long list of Old World wines, and while they're not cheap, there are at least several available by the glass.
One final reason to visit BiBo Shoreditch? The Sunday brunch, co-hosted with Bonita FM who roll out live performances of salsa, Latin and jazz music while you tuck into chorizo brioche with quail egg; fried egg paella; and burnt Basque cheesecake.
Don't worry, it's like that on purpose.
NOTE: BiBo is open daily for lunch and dinner, plus brunch on weekends. You can find out more, and make a booking at the website HERE.
BiBo | Mondrian Shoreditch, 45 Curtain Road, EC2A 4PJ
---
While you're in the neighbourhood… here are the best bars in Shoreditch