Trinity, and its upstairs restaurant, Upstairs, are some of Clapham's best restaurants.
And now that they've opened Bistro Union, they've finally got the literal trinity, too.
Tucked deeper into the residential backstreets of Clapham (known as Abbeville Village), it's a real neighbourhood restaurant. It serves food of the same calibre as Trinity, but in heftier portions you don't have to look remotely dainty while snaffling through.
The interiors here are cheery in spite of their modesty. The bar up front is pub-like, with colourful subway tiling and copper draught taps. The stools were probably reclaimed from whichever school science lab was holding them hostage. Tables are set with no-frills napkins, and a brown paper tablecloth (crayons on request). It's pared back, but warm, just as any local bistro should be.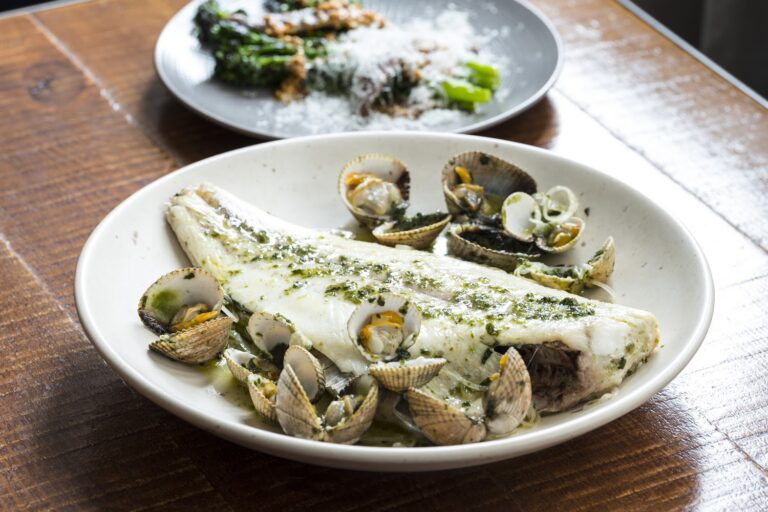 Under the watch of chef-patron Adam Byatt, Bistro Union shares its siblings' seasonal philosophy. That means cosy autumnal dishes like partridge and pear tree terrine, Jerusalem artichoke soup, and pan-roast pork chop with stuffed prunes and turnip – which give way to potted shrimp, grilled white runner beans, and orange & Campari granita come summer. And you can enjoy them all in a thoroughly reasonable set menu of 3 courses for £45.
They're just as serious about wine here, too, with several by the glass (starting at £6), carafe or bottle, including 'chef's cellar wines' – premium numbers nicked from Trinity (and priced down) that they want to share with you.
But you should totally keep them for yourself.
NOTE: Bistro Union is open for lunch and dinner Wed-Sat, plus Sundays 12-6pm. You can find out more, and book a table, HERE.
Bistro Union | 40 Abbeville Road, Clapham, London SW4 9NG
---
Like dining out? Find the best restaurant, in every neighbourhood