Blacklock Shoreditch | East London Chophouse
The chefs at Blacklock famously grill all their chops using an old 'Blacklock' iron.
Explains how they've flattened the competition.
And this, their third joint – after Blacklock Soho (in a former illegal strip club) and Blacklock City (in a former medieval meat market) – finds itself in Shoreditch, in a space that was a former, ugh, non-meat related restaurant.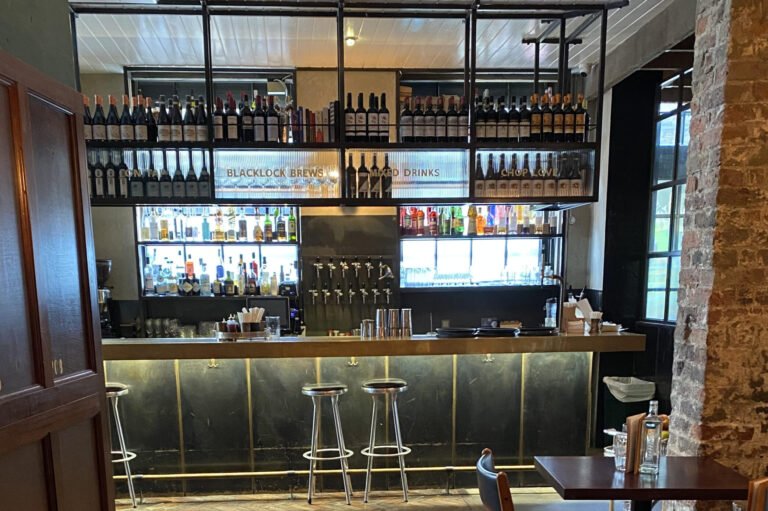 Blacklock Shoreditch is delightfully capacious, and the team have done their best to let the space speak for itself, stripping away all the layers of paint & varnish to reveal the spartan simplicity of a concrete floor, brick walls, and a wooden ceiling. In fact, the only adornments on the walls are the blackboards showing the daily specials.
Clearly, they'd rather let something else do the talking. Namely…
THE FOOD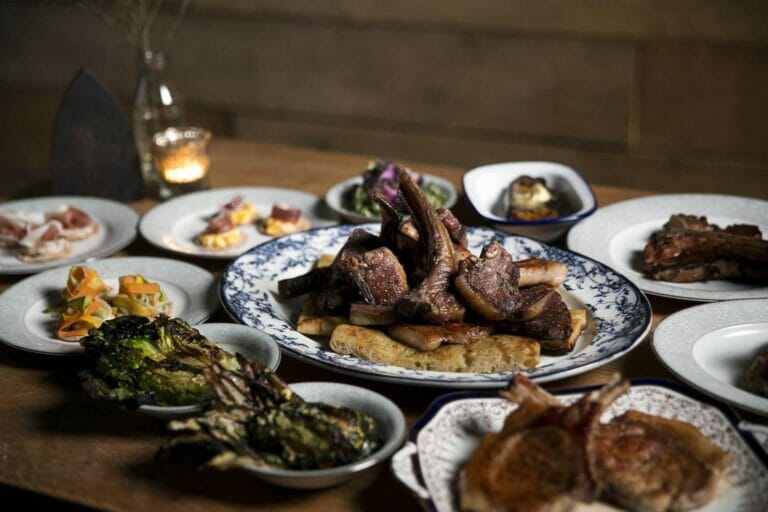 For those unfamiliar with the Blacklock concept, it's pretty simple: they serve chops. They're either 'skinny' (for a mere £4 each) or 'big' (served in increments of 100g). They come in the form of lamb cutlets, lamb t-bones, beef rump, beef rib, pork rib, pork belly, porterhouse, tomahawk – we could go on. There are even smoked bacon chops. And they're all cooked over a charcoal grill before being seared with an original Blacklock Foundry clothes iron from the 1800s.
They have a very small selection of starters and 'pre-chop bites' (grilled squid & bone marrow; egg & anchovy, etc.), and a healthy selection of sides, including beef dripping chips, charred courgette, barbecued baby gem salad, and 10hr ash-roasted sweet potatoes. And on Sundays, you're looking at big ol' roasts, with the option to go 'all-in' (with roast beef, lamb and pork) for £20.
THE WORKER'S LUNCH
If you're just in the market for a quick-yet-filling midday meal that nostalgically harks back to the days of East End worker's lunches while still remaining quite reasonably priced… then you're in luck. Blacklock Shoreditch are running a Worker's Lunch menu featuring these old school classics for a tenner:
Steak Sarnie – doing what Blacklock do best, this is simply hanger steak sliced and topped with bone marrow & dripping, finished off with watercress, and thrown into a ciabatta roll.
Blacklock Burger – a dish that's been six years in the making, refined into the ultimate double cheeseburger.
THE BAR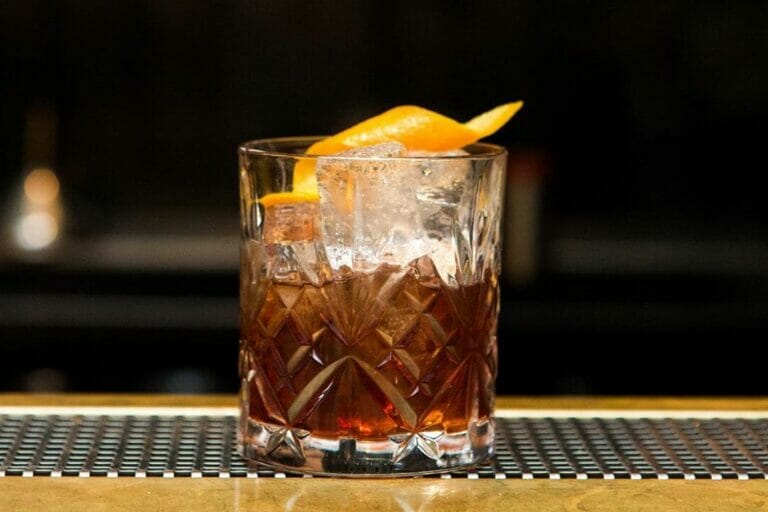 Now that they've got their very own bar, they've decided to go in a slightly new drinking direction. Sure, you can still get their crazily good value 'cocktails for a fiver' (which include house takes on Gimlet, the Old Fashioned, and the Negroni, etc.) And yes, if you're too lazy to visit the bar, their cocktail trolley will still come to you…
…but now, they've also teamed up with New York speakeasy Slowly Shirley. On their guest menu – which will remain in place indefinitely – you can get the vaunted bar's greatest hits, including the Cognac & gin-loaded Telegraph, and a vodka/ lychee/ lime leaf/ ginger number called The Village Bicycle.
Which seems like it'll be extremely popular.
NOTE: Blacklock Shoreditch is open weekdays 12-3pm & 5-11pm, Saturdays 12-11pm and Sundays 12-9pm. You can find out more, and make a booking on their website HERE.
Blacklock Shoreditch | 28-30 Rivington Street, EC2A 3DZ
---
Looking for a nightcap? Check out the Best Bars in Shoreditch