Ah, Bluebird.
Stage of so many Made in Chelsea showdowns, like the time Victoria dissed Cheska on the ice rink for having "ear muffs on like you're working in a radio control tower".
Zing.
The party sadly moved on elsewhere, but had they stayed to enjoy some of the modern brasserie dining on offer at Bluebird, they no doubt would have made amends by the end of the evening. This elegant restaurant – from the same team behind German Gymnasium, 100 Wardour Street and Bluebird London (in New York) – is so dang convivial that it's impossible to leave without grinning earmuff to earmuff.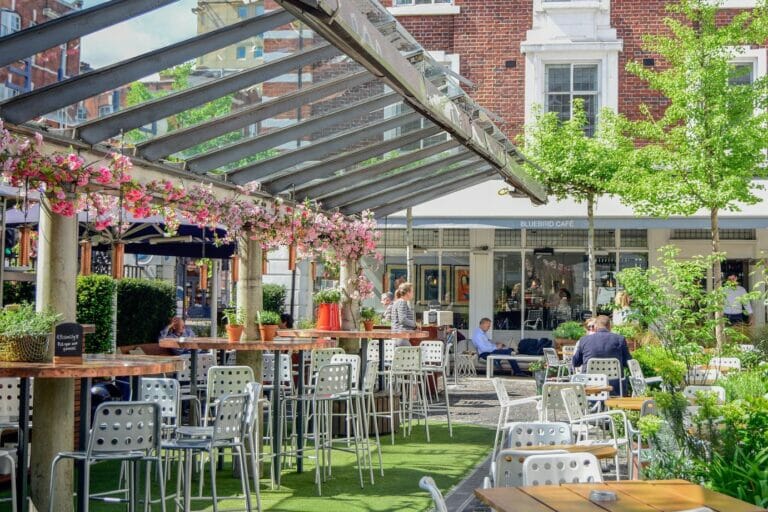 The setting is undoubtedly impressive. Bluebird sits in a Grade II listed Art Deco garage that was first transformed into a restaurant (or as he called it, "gastrodome") by the great Sir Terence Conran in the 1990s… which might have been challenging had he not done the same thing for the old Michelin garage down the road a few years earlier (now the excellent Claude Bosi at Bibendum). Inside, the huge iron girders propping up the roof are overgrown with greenery, while the sleek art deco facade now looks onto an alfresco courtyard where the petrol pumps once stood.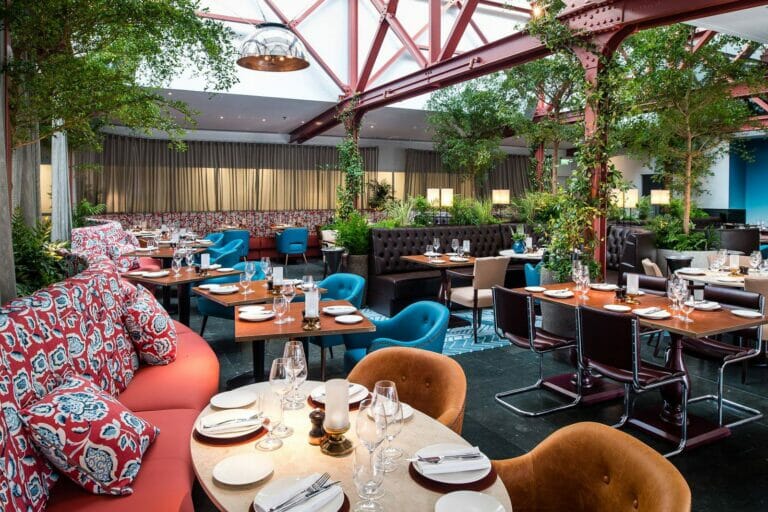 Downstairs is where you'll find the more casual Bluebird Café, serving a laid-back brasserie menu of aged steaks, classic burgers and colourful salads, as well as fondues (chocolate or cheese) and brunch on the weekends. Upstairs is the more formal dining area, with bespoke Celia Birtwell prints on the banquettes and a grand, circular bar taking centre stage. This is the spot for a signature cocktail like the Fireside (with marshmallow-infused gin and absinthe) before being led to your table for a feast of steak tartare & quail's egg on beef dripping toast; violet artichoke and basil tagliolini; roast Cornish lamb rump with parmesan mash; and sticky toffee pudding topped with a melting dollop of clotted cream. As the lights twinkle overhead and the merry clink of wine glasses chimes all around you, you'll sit back and concede that anything can be remedied with a good meal.
Or thicker earmuffs.
NOTE: Bluebird Chelsea is open for breakfast, lunch and dinner daily (restaurant for lunch & dinner only). You can find out more, and book a table, HERE.
Bluebird Chelsea | 350 King's Road, London SW3 5UU || Main image: Alex Pareas
---
Like dining outside? Peruse our guide to London's best alfresco restaurants