BOB's Lobster | Relaxed Rolls in London Bridge
There aren't many places like BOB's Lobster.
There's a lot that sets it apart, from its high ceilinged space with beautiful brick-arched windows complete with an entire VW Camper Van, to its New England-inspired menu filled with items you won't find anywhere else (including, probably, New England).
Let's start with the name. Despite being founded by a man called Roberto, it's strangely not named after him – it's an acronym for Beadles of Borough, the nearby wine shop where the whole enterprise started. They decided they needed some victuals to go with their vino, so they bussed in a VW Camper (the one that's currently parked next to the tables) and took advantage of the facts that a) lobster rolls are delicious, b) almost no-one in London was selling them, and c) they happened to be located in one of the nation's best ingredient hubs, Borough Market. All of which is a longwinded way of saying that BOB's is actually a wine bar as well as a restaurant.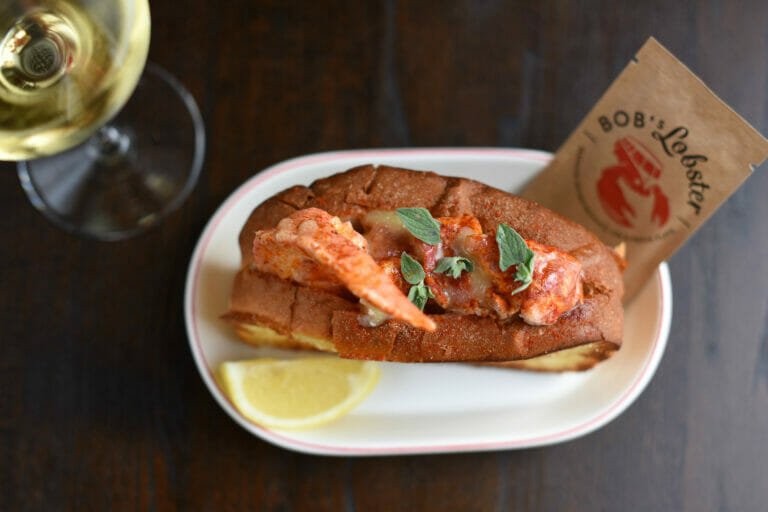 As we mentioned BOB's Lobster is quite spacious, and high ceilinged, which gives it an appropriately light and unserious feel. The bar's made use of all the vertical space to create a gigantic wall of wine stretching up to the ceiling, and the space is bisected by a vibrant stretch of red banquette seating.
The menu is short & sweet with non-lobs sea-dwellers confined to the 'small plates' section, wherein you'll find seared scallops with pork belly & fregola; crab stacks with sashimi-grade tuna, papaya & ginger salsa; tuna tacos in crispy wonton shells; and crayfish croquettes with Old Bay mayo. You can, of course, get oysters (either raw or baked with bourbon butter), and some fries covered mussel & bacon chowder.
And now our clawed headliner. The mains are alllll lobster and include a hearty bisque, some brioche lobster rolls, a lobster cheeseburger, and just a good ol' whole lobster with smoked parsley butter & samphire. There's obviously no shortage of wine to drown it all, and they've got a decent cocktail list to boot.
It's the kind of place you'll be happy to spend a few bob.
NOTE: BOB's Lobster is open now. You can find out more and make a booking at their website right HERE.
BOB's Lobster | Unit 71 St Thomas St, Bermondsey, SE1 3QX
---
Looking for more places to eat? Take a look at these great restaurants in London Bridge