Remember Union Street Café? Yeah, it's now Bread Street Kitchen Southwark.
The end.
Okay, there is a little more to it than that. Union Street Café, which you might remember as the Gordon Ramsay-owned Mediterranean restaurant in Southwark – that served a daily-changing menu of Italian-influenced food and was once rumoured to have the backing of his pal David Beckham – is no more. Things are different now:
For one) Street has new words for name company.
For two) The Beckham rumours have long been squashed (he left before Union Street's initial launch). 
For three) The whole menu has been given a shake-up from top-to-bottom, modelled after the notoriously shouty chef's Bread Street Kitchen brand: casual Ramsay rather than the Michelin-star seeking stuff.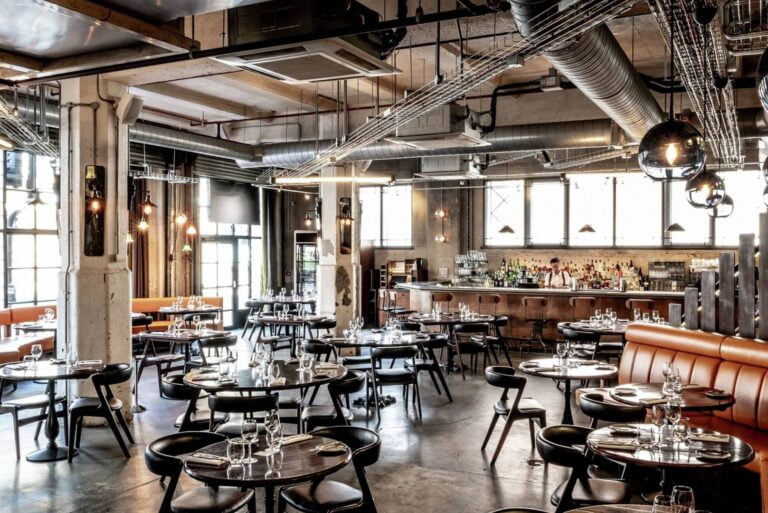 On the design front, there's tan banquette seating, dark wooden tables and the interior on the whole has gone full industrial with exposed concrete stylings, pipework and floor-to-ceiling windows. The food though, is where you'll notice the major surgery. As with the other Bread Street branches – both worldwide and here in London, in City – it's mostly a greatest hits album of Ramsay's brasserie classics, like the fish and chips (beer battered haddock with Koffman's fries), the dry-aged beef burger, the Sunday roast with all the trimmings, and the Beef Wellington with creamy mash and red wine jus that he, erm, swears by. There's also a special menu for kids where they're generously given a free main (he was always much nicer to children).
For drinks, you can't go wrong with the wine list, which is extensive – same goes for the beers – and there's also bottomless bubbly on weekends, but the signature cocktail section is where the excitement factor comes from, including a few that have made the trip over from BSK locations like Singapore's spicy Fire Sapphire (gin, green chartreuse, sugar and fire tincture) and Hong Kong's fruity Noble House (with aged tequila, lime, egg white, rose syrup and blackberry).
Lastly, the big question, will Ramsay actually be there? As he leads a fairly busy life juggling a mini empire of restaurants, TV gigs and family business, probably not.

He's got a lot on his plate…
NOTE: Bread Street Kitchen Southwark is open for lunch and dinner daily. You can book online HERE.
Bread Street Kitchen | 47-51 Great Suffolk Street, SE1 0BS
---
Like dining in the area? Check out our guide to the best Southbank Restaurants