Bubala is a Yiddish term that loosely translates to 'darling'. 
And this place is fast becoming the bubala of East London's restaurant scene.
It comes to you from a duo with serious restaurant pedigree: running the front of house is Marc Summers (formerly the GM of Berber & Q), while the kitchen is headed up by chef Helen Graham, who's manned the pans at such Middle Eastern titans as The Palomar, The Barbary and The Good Egg. They're not exactly slouches, basically.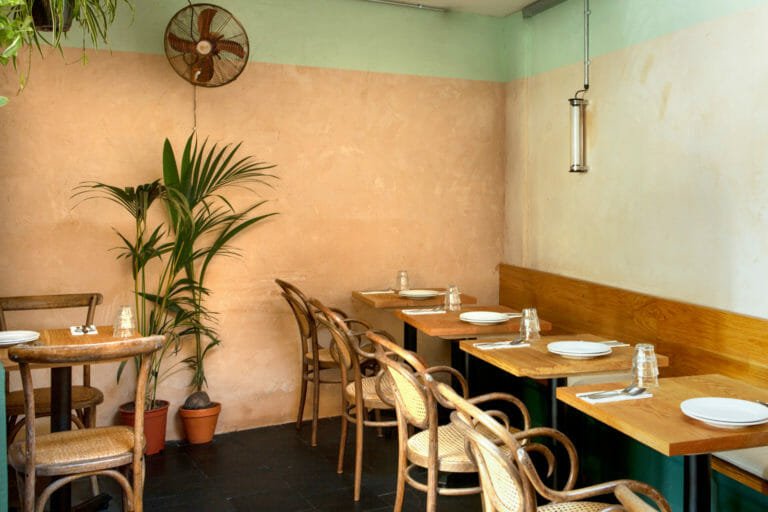 The space they run has beautifully rustic peach plastered walls lightened up with sweeps of aqua across the ceiling. The bar's a fully-functioning dining counter topped with a quirky terrazzo made with twinkling foil sweet wrappers. Behind is a swathe of forest green tiling and a bar that looks almost as good as it tastes – a rainbow of unusual wines (red, white, pink & orange); brass taps for still and sparkling water; and an attentive barkeep shaking up cocktails.
After having refined the various dishes served at their popups into a permanent restaurant menu, they've now refined that further into a pair of set menus, 'Bubala knows best', which feature the absolute best dishes in their wheelhouse. The choice is between vegetarian or vegan, but honestly you wouldn't even notice if you weren't told beforehand, it's all so damn good.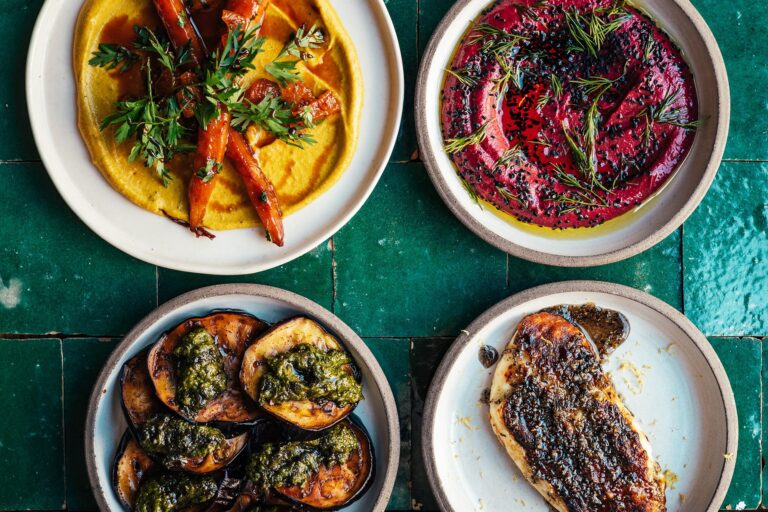 Some of the highlights? Whatever the case, you'll be getting the laffa flatbread, warm, doughy and bristling with oil on the edges, crunchy in the centre. It's the perfect partner for mopping up the house hummus, slicked with a languorous layer of burnt butter. Then there's the fried halloumi. Bathed in black seed honey (used for centuries in Persian medicine), the outside is charred and crispy; the inside a surprising pocket of pliant, shreddable cheese that doesn't fight back the way halloumi usually does. The fried aubergines are silky soft and dotted with date syrup and zhoug, and the potato latkes, with their mille-feuilles-like folds, look so beautiful you might almost feel guilty about eating them. Almost.
You'll likely feel stuffed after all this, but if you somehow have room for dessert, then you can score the likes of salted caramel chocolate truffles, or a scoop of tangerine & tahini ice cream draped in date molasses.
Welcoming, unpretentious, and thrumming with flavour, Bubala isn't just one of the best vegetarian restaurants in London…
…it's one of the best full stop.
NOTE: Bubala is open now. To book a table, and find out more, head to their website right HERE.
ALSO NOTE: Thanks to the roaring success of Bubala Spitalfields, the team have now opened a second Bubala in Soho.
Bubala | 65 Commercial Street, E1 6BD
---
Heading for a nightcap after? Check out the best bars in Shoreditch…