Cafe Boheme was recently closed for a bit.
But don't worry – it didn't lose its huile d'olive.
It was merely shuttered for a (very) subtle refurb. But now the iconic, quarter-of-a-century-old French restaurant/bar propping up the corner of Soho House's flagship club is back, and eager to feed you into the wee small hours.
Staying true to its roots the interior here retains that "Belle Epoque" vibe, with classic bentwood chairs and tile flooring, only now the studded red banquettes and silver zinc fittings have been supplanted by racing-green leather pews, a golden matte brass bar, and marble topped tables. And to complete the look, almost every square inch of blank all space has been covered in photographs, paintings, and mirrors.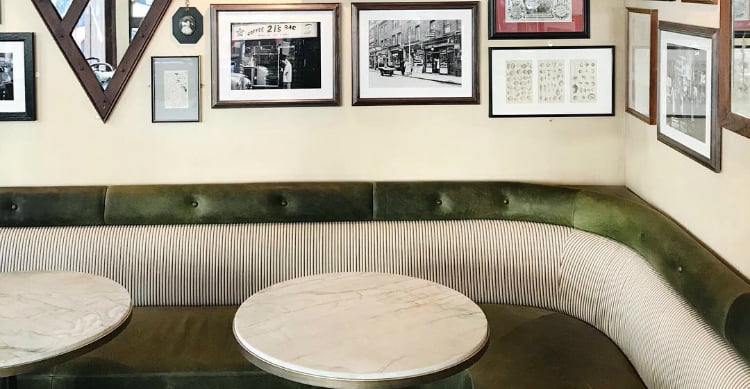 Oh and, as before, it's still open until 3am. Giving the staff a mere five hours to rest before swinging open their doors in the morning, to once again begin serving:
FRENCH FOOD
Breakfast kicks things off as they mean to go on with classic mushrooms on toast with gruyere, or the likes of a ham omelette with fine herbs. Ironically, the one non-French thing on the breakfast menu is French Toast, with chantilly cream & plums.
For lunch and dinner they're playing all the hits, with croque monsieurs/madames, a duck confit with an outrageously crispy skin, some ribeye steak frites, a selection of charcuterie, steak tartare, and some classic escargot with bacon & garlic. And if you get there after the bars close? They have a late night menu with moules marinieres, or a hamburger. And you'll certainly be interested in:
FRENCH BOOZE
Aside from gallons of wine in the cellar and French lager on tap, they have all-original Gallic-styled cocktails ranging from their Chartreuse Swizzle (Green Chartreuse, pineapple, falernum, and lime) to their Boheme Spritz, whose St Germain & Champagne are offset with a touch of grapefruit tonic. And finally, there's:
LIVE MUSIC
Yes there's live jazz every evening, which – in such an intimate space – gives the place a little extra liveliness….
It's positively Bohemian.
NOTE: Cafe Boheme is open Mon-Fri 8am-3am, Sat 9am-3am and Sun 9am-midnight. You can find out more, and make a booking at their website right HERE.
Cafe Boheme | 13 Old Compton Street, Soho, London W1D 5JQ
---
Like dining with a little jazz? Check out the best London restaurants with live music