Caia is, without doubt, one of Notting Hill's hottest restaurants.
Partly because of the very literal open flame grill around which the kitchen revolves, which is so central to the concept that the place is named after the Roman goddess of fire…
…but also because it just secured the scorchingly hot talents of Chris Denney for a summer residency.
In case you don't know him, Denney is the man behind the critically lavished 108 Garage and Fiend. Jay Rayner said his cooking was "exceptional". Grace Dent calls him a "massive talent". Giles Coren says he's a "chef who comes along only once or twice in a decade."
He's good, basically.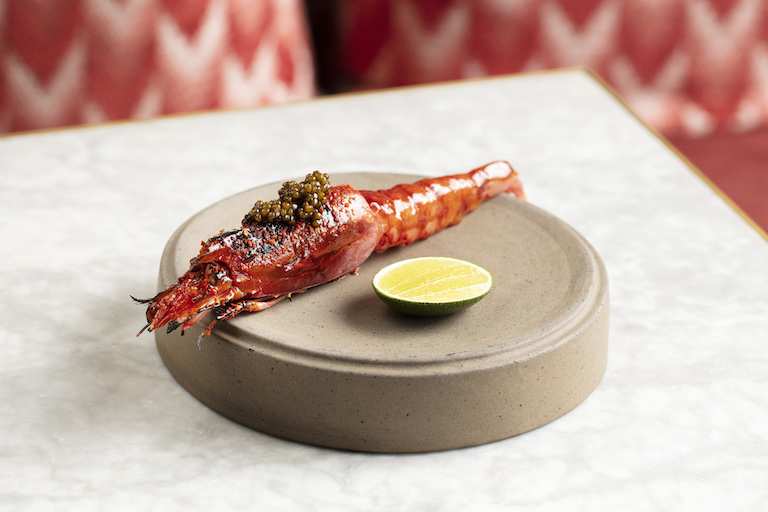 Here, Denney's going to be cooking alongside chef Rishabh Vir (formerly of The Fat Duck & Kiln), who also happens to be the co-owner at Caia. Which brings us back to the restaurant itself, which is an absolute gem of a place, driven by open-fire cooking, great wines, and a semi-religious reverence for music.
The space itself is an invitingly stylish little eatery centred around the open kitchen with its custom-made grill, with another floor's worth of seating below it all, too. And as a kicker, it's got an intimate wine room in the back, with its rear wall covered from floor-to-ceiling in bottle-filled racks, and a small table for a dozen people in the middle.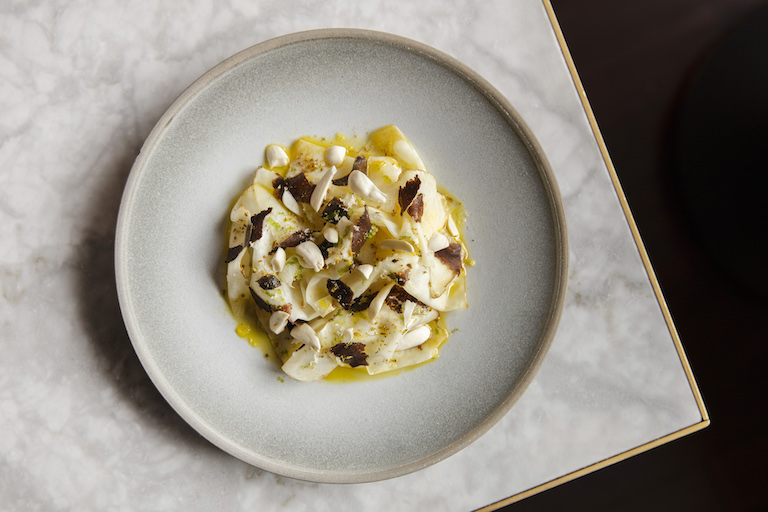 The menu Denney's cooking up includes the likes of small plates like red prawn with black cherry sriracha; sweet, sour, spicy and salty honeymoon melon; and smoked stracciatella with burnt onion and air-dried beef. Then, the larger goods include black carrot with sea urchin sauce & lardo; crab with buttermilk and bottarga on rose gem; and a hefty wagyu ribeye with tomato and gochujang.
To drink, unless you happen to be in the wine room fantasising about plucking a bottle from the wall behind you, there's a cocktail bar with something likely to suit your palate, covering some old-school classics, aperitivi and spritzers from Italy.
And saving maybe the best bit for last, underneath all of this is the basement where you'll find a Kuzma R record player with some Auditorium R-25 A speakers (which are amazing. We assume). Not only are they using this setup to play some first-rate vinyl, but they also play host to guest DJs with an exciting music program and listening parties curated by co-owner Tim Lang.
Hear, hear.
PREVIOUS PERK: Nudge Members got 35% off their food bill for two weeks for Chris Denney's summer residency. 
NOTE: Caia is open Tuesday – Saturday (till 1am Fri & Sat). To find out more, and/or book, head HERE. 
Caia | 46 Golborne Road, London W10 5PR
---
 Making a night of it? Check out the best bars in Notting Hill…