Campania | Cosy, Rustic Italian Dining on A Cobbled Backstreet
As the bottom of the boot, Southern Italy is really where you'll find the country's sole food.
And there's no better place to find it in London than the utterly transporting Campania, a little sliver of backstreet Italy hiding behind Hackney's Columbia Road.
Like the Printers & Stationers wine bar next-door, Campania isn't what it appears to be. That's because, in order to find it, you'll need to look for the sign 'S. Jones', kept on from the building's previous life as a dairy.
And boy, have they milked that.
It feels like barely anything in this beautiful old building's been changed, and the whole place looks romantically dilapidated – cobbled pavements, bare brick walls, and a tiny courtyard boxed in by a forest green stable gate and rusty shop windows, with a smattering of little marble tables. There's even a little side hatch on the corner for coffee and pastries to go.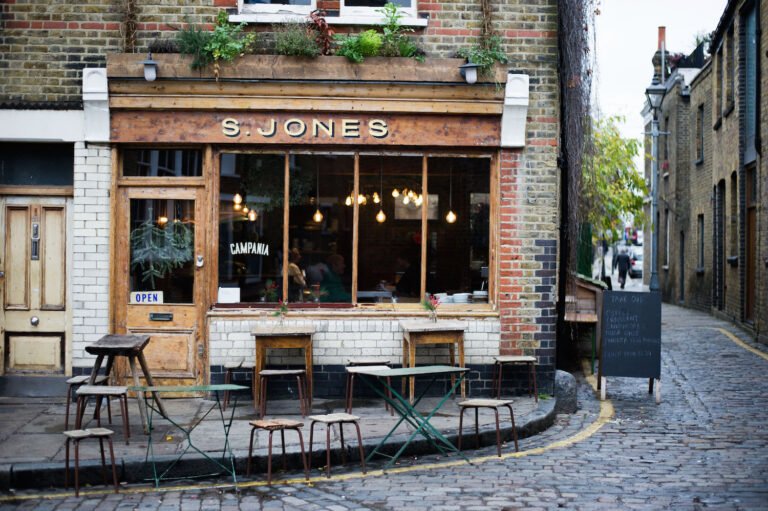 Head inside, and you'll find rustic romance in every corner – simple wooden furnishings, candlelight, and an old nonna surrounded by troughs of colourful veg, making fresh pasta in a room at the back (which can also be hired out for private parties). It has all the ingredients for being a hidden gem, if it weren't absolutely packed out most days of the week (especially on Sundays when the flower market starts up on Columbia Road).
The menu changes daily depending on what la nonna Maria's rolling out, but you can usually pick from around five starters and five mains. At lunchtimes, those two courses (and a glass of wine) will come to a princely £15. From day to day, you might find knots of spaghetti with fresh tomatoes and clams; triangular tortellini stuffed with seasonal veg; pan-fried whole fish, slabs of herb-rubbed meat and rich, boulder-sized meatballs. In other words: serious Italian soul food.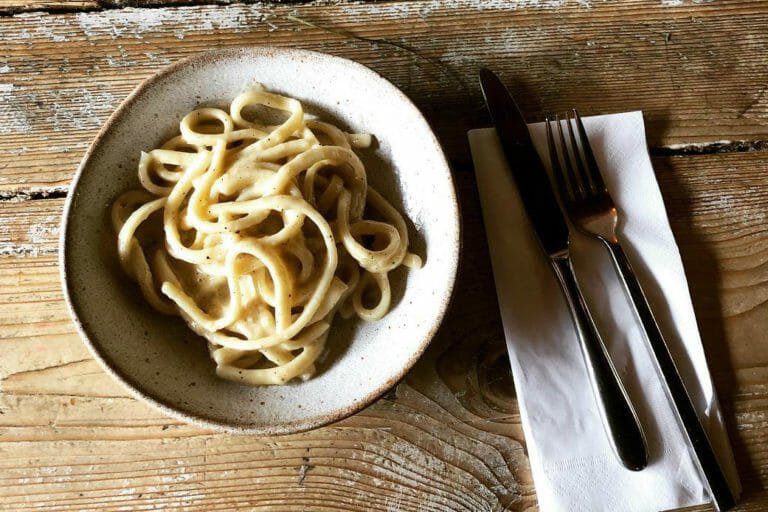 Independently run by Emma Lantosca, Campania's full of generosity and heart, with no veneer or studied attempts at authenticity. Parmesan graters are left for you on the table; the portions are sumptuous; and occasionally you'll hear a trio of folk musicians serenading the tables outside. It's just the kind of atmosphere you can't manufacture.
But thankfully, it's at Campania whenever you want it.
NOTE: Campania is open Tues-Fri 8.30am-3.30pm & 7-11pm; Sat 10am-5pm & 7-11pm; and Sunday 9am-6pm. You can find out more and make a booking on their website HERE.
Campania | 23 Ezra Street, E2 7RH
---
Like fresh pasta? Check out the best Italian restaurants in London