Casa do Frango Shoreditch | Upmarket Peri Peri Chicken
If you like piri-piri chicken, beautiful buildings, and Portuguese wine bars…
Then this Casa is sua casa.
It's the Shoreditch sequel to the surprisingly good Casa do Frango London Bridge, which – when it was first announced – sounded basically like a fancy Nandos. The name even means 'chicken house'. After it opened however, opinions changed quite radically: the space was casually gorgeous (and an easy contender for the most beautiful restaurant in the neighbourhood), the food was absolutely first rate (Jay Rayner called it "delightful"), and then there was the small matter of the elegant hidden cocktail bar, The Green Room.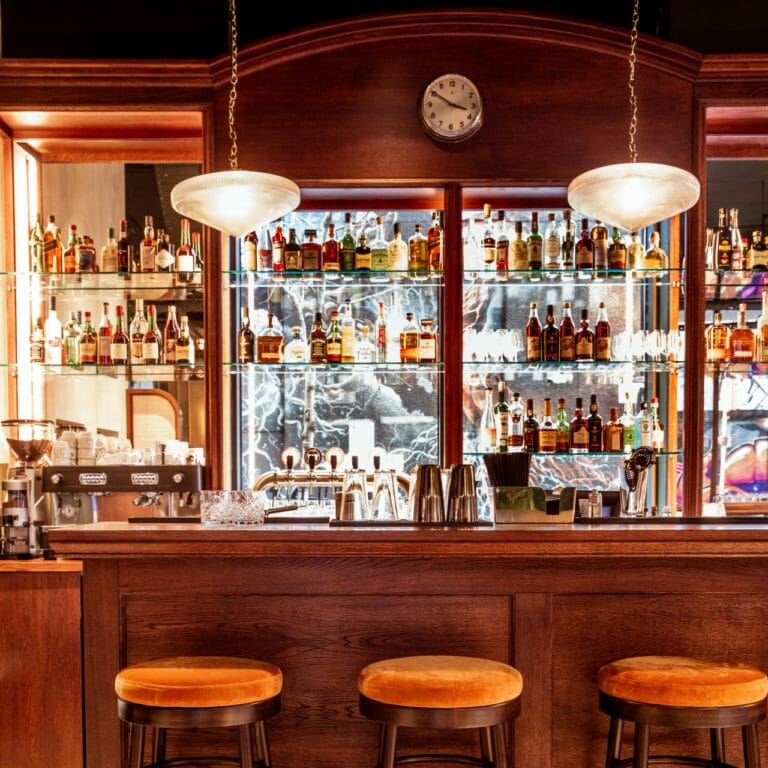 A couple of things have changed for Casa do Frango Shoreditch. For one, the bar isn't hidden. Quite the opposite, in fact. It's the first thing you see heading into the ground floor. And as first impressions go, it's lovely & light, with an elegantly old fashioned European vibe. Then there's the building itself, which is arranged in a kind of V-shaped hairpin. It means that the upper-floor restaurant space seems to emanate out from a single, sofa-clad point.
Up there too is the kitchen, which is perhaps better described as a gigantic grill with a kitchen wrapped around it. On that grill, the star of the show – the chicken – is being torched by charcoal and brushed with their house piri piri blend. The supporting cast include the likes of plump chorizo sausages grilled with black olive mayo, a light octopus salad with pickled potatoes, some garlic prawns with white wine, and some African rice punched up with some shards of crispy chicken skin and plantain.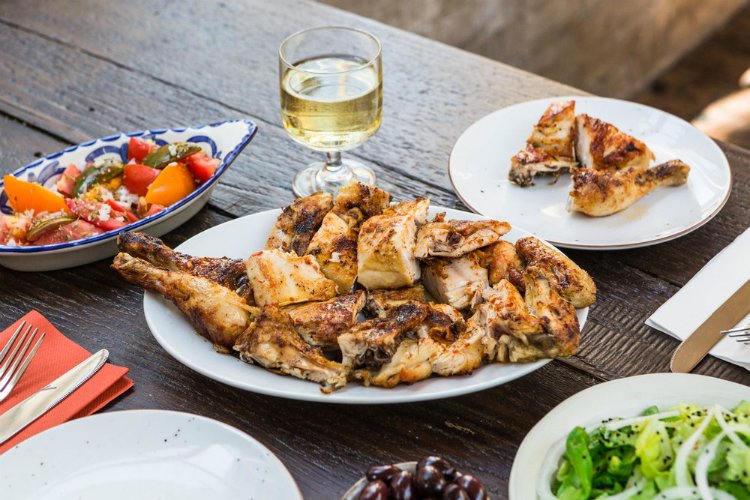 And should you want an almond cake, or a pastel de nata to finish it all off, it just so happens there's a small bakery on site making them with cinnamon or raspberry.
Finally, you can't leave Casa do Frango Shoreditch without going through the liquid gift shop that is that bar. There's understandably a lot of Portuguese wine and port on offer, and you can get a white port & tonic, a port old fashioned, or even a piri-piri spiced beer on tap – it's the kind of drink that pulls of the magic act of both scorching and dousing your tastebuds simultaneously.
In short, this is no ordinary chicken house.
NOTE: Casa do Frango Shoreditch is open for dinner Mon-Tues, lunch & dinner Wed-Sat, and lunch on Sundays. You can find out more, and book a table, HERE.
ALSO NOTE: They've now opened a third spot – head to Casa do Frango Piccadilly.
Casa do Frango Shoreditch | 2 King John Court, London, EC2A 3EZ
---
Fancy a nightcap? Peruse our favourite Shoreditch bars