After a successful pop up earlier this year, the Thai-American spot Chet's has opened a permanent spot in the new Hoxton Hotel in Shepherd's Bush. And, as a restaurant that specialises in a fusion of Eastern and Western flavours, it's seems like it cannot be a coincidence that it's moved into a venue that acts as a symbolic fusion of East & West London.
But it probably is.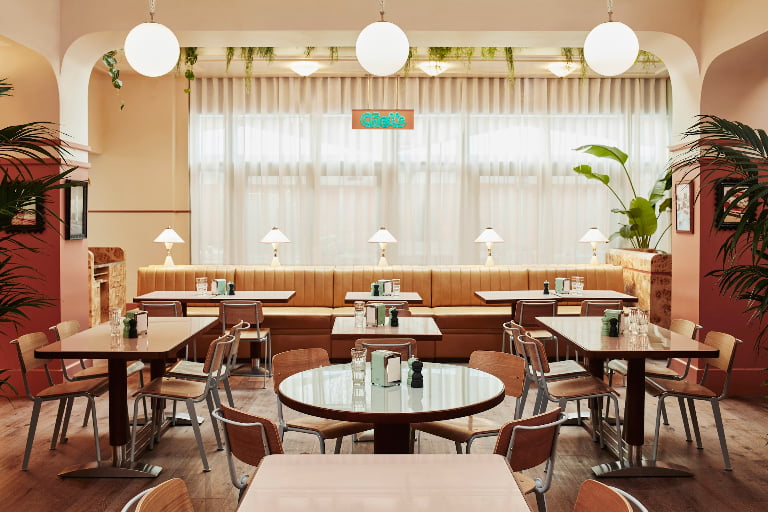 Either way, Chet's is a gorgeous spot. And as with all the Hoxton Hotels their design team have clearly understood the assignment, delivering shades of New York thanks to bulbous mid-century light fixtures dangling above a polished space dotted with greenery and held aloft by pastel-red columns. It's thoroughly inviting without being too dark & moody – the large windows all bathe light in the right places, but the little booths set into the wall work well if you're after something more intimate.
On the menu, you'll find a list of Thai-American hybrid dishes put together by chef Kris Yenbamroong – he runs a cultishly popular Thai restaurant in LA called NIGHT + MARKET, and here he's aiming to make Chet's its UK equivalent. The food is fun, casual, and frequently works absolutely marvellously. And being in a hotel means it's open all day (which in turn means you can start the morning here with babka French toast).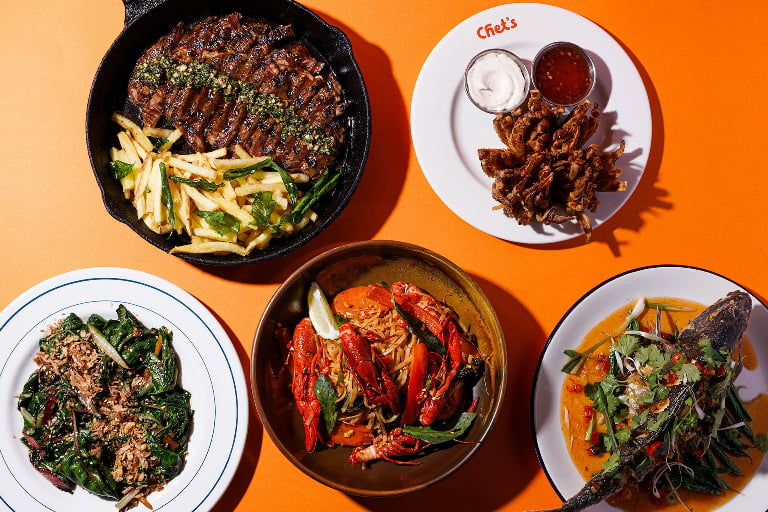 Standout dishes include the cracklingly crispy golden fried chicken, with two little dishes of dipping sauces; one volcanically hot chilli, and one soothing balmy ranch. Then there's the Smashburger, which tops a pork & beef burger with American cheese, coriander, and a wonderfully fragrant Thai-style sauce. The chiang rai hot dog is dressed in pleasingly fiery pork chilli & crispy shallots, and there's even a whole onion that's been 'flowered' into leaves and deep-fried in a five-spice blend. It's truly something to behold.
To drink, there's a strong list of natural wines plus similarly flavour-fused cocktails, including zesty coriander martinis, a bright pink Nom Yen Ramos, and a huge Thai-ami Vice designed for four people. It even comes with a bottle of champagne.
Which is a corking little sidekick.
NOTE: Chet's is open now, seven days a week, all day. You can find out more, and make a booking at their website right here.
The Hoxton Shepherd's Bush | 65 Shepherd's Bush Green, W12 8QE
---
If you like this place… it's not a huge leap to imagine that you'd like to know about the best restaurants in West London