Welcome to Circolo Popolare, the restaurant freakshow of the year which has done the impossible in 2019 by being fun, well designed, buzzy, permanently overflowing with guests, easy to get into (for those willing to queue), affordably priced and critically acclaimed.
It comes to us from the Big Mamma Group, who are also responsible for Gloria – which for those way, way out of the loop is the larger-than-life Italian restaurant that opened earlier in the year in Shoreditch and which is also causing regular lines around the block to get a table.
This follow up's in Fitzrovia, and it mimics its big sister where it counts, bringing a maximalist, overstated, lavishly fun vibe to everything it does, only with slightly different Italian lilt: while Gloria focuses on the Amalfi Coast of the '70s. Circolo Popolare plants its inspirational flag in Sicily. What does that mean? Well, allow us to take you on a little virtual tour:
You can't really miss it from the outside. Just head to Rathbone Place, and look for the building that appears to have a rainforest growing out of the wall. Delve into the foliage, past the door, and you'll get to the first of the restaurant's two rooms: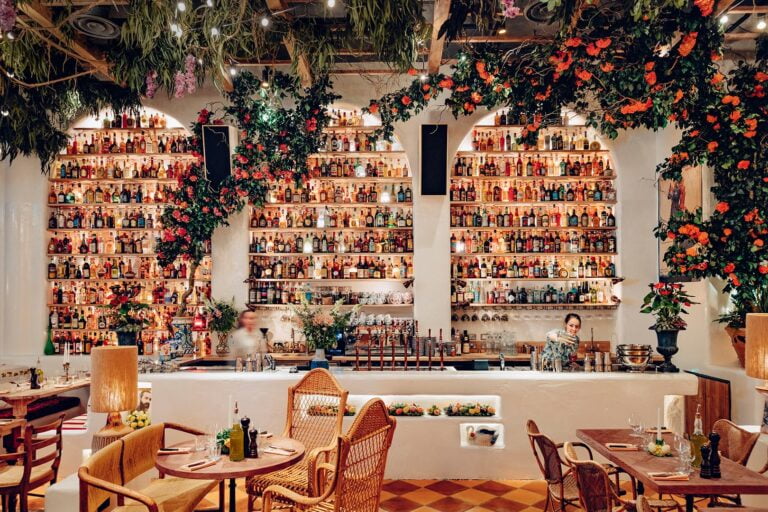 There's barely a square inch of the alabaster stone walls left uncovered by paintings, flowers, posters, and the multitude of spirit bottles lining the shelves. If one were to take the time to count them all, you would find there are 20 thousand.  The ceiling is a trellised jungle of hanging wisteria & festoon lighting, and the furnishings are scattered assortment of candlelit wood & wicker. You'll see a bar on your left as you make your way through to the room at the back…
…where you'll realise that the spirit bottles in the front room were but a trifling tease compared to the floor-to-ceiling, wall-to-wall stacks of wine bottles now presenting themselves. You almost don't notice the open kitchen, or the huge windows looking out onto the terrace (which seats a mere 60ish people, no big deal), the dozen chandeliers, or the vast column of flowers exploding out onto the ceiling from the centre of the room, such is the sensory overload.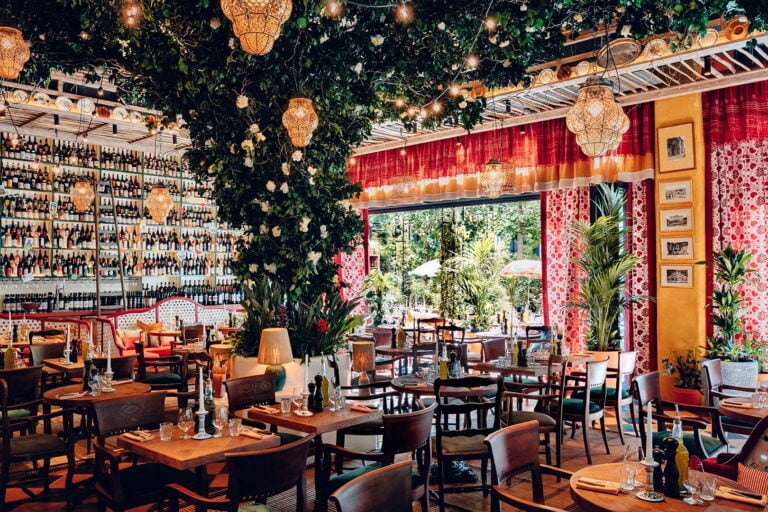 Taking a seat somewhere you'll then peruse the menus and be happy to confirm that it's all just as big there, too. You can get everything from a whole burrata filled with pesto, to a Truffle Shuffle pizza with fresh truffle & truffle sauce, to a plate of 'silk handkerchief pasta' (it's literally shaped in huge sheets, like a silk handkerchief) smothered in Tuscan pork ragu.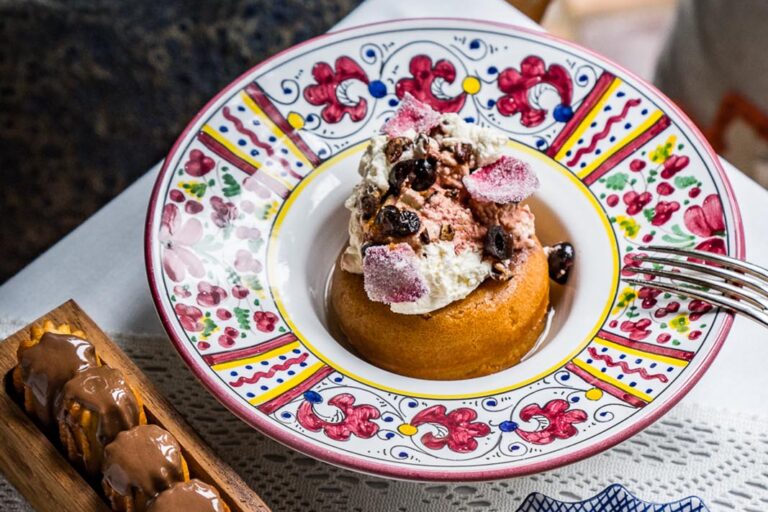 Puddings at Circolo Popolare include a wedge of cake-like Dessert Island made from whipped egg white "so light it'll make your head spin" with caramel and custard; and a helping of the gigantic Meraviglioso made from cream, meringue, and chocolate flakes.
And what about the cocktails? Let's just put it this way: If you've ever fancied drinking three types of rum blended with lime & hibiscus syrup out of a mug that looks like a naked pair of boobs, or considered sharing a giant ceramic strawberry filled with gin, Earl Grey, and Lambrusco with five other people…
….well this is the place for you.
NOTE: Circolo Popolare is open now. You can make a booking, and find out more, right HERE. 
Circolo Popolare | 40 Rathbone Pl, Fitzrovia, W1T 1HX
---
Like to play with your food? Then you'll probably like our guide to London's most fun restaurants.