From what we can gather, the master plan for Le Cordon Bleu has three stages:
1) Sart a culinary school teaching classic French haute cuisine.
2) Spend the next 127-ish years establishing your reputation.
3) Open a restaurant.
Well, we've now reached stage three in their impressively far-sighted blueprint with the unveiling of CORD, their first London restaurant. And just for anyone who's been living in a cave for the last 127 years, Le Cordon Bleu really is the one of the most influential & important culinary institutions in European history. There are now 35 schools in 20 countries with over 20,000 chefs a year learning from them. Chefs like Yotam Ottolenghi, Mary Berry, Julia Child, and even Kelis.
Those milkshakes really must have been quite something.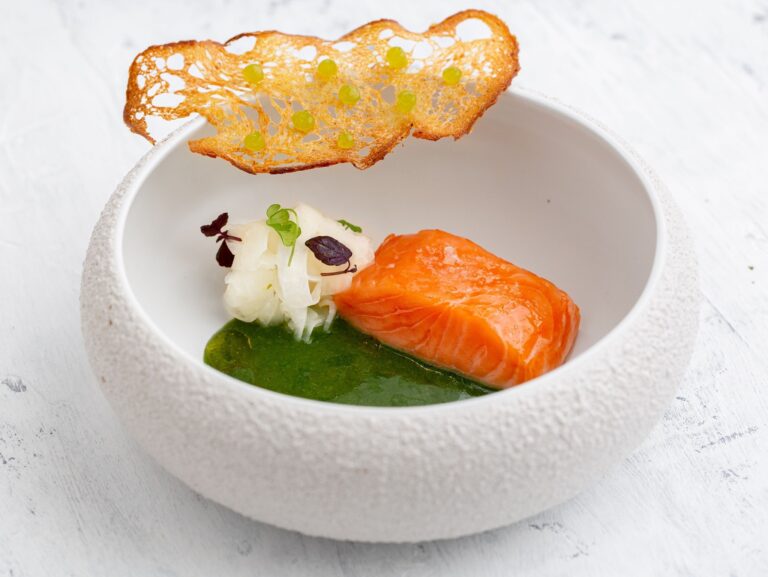 The space is on Fleet Street, in the old Lutyens spot – it's a nice large, white-walled canvas upon which they've painted their signature blue flourishes of colour with sapphire-coloured velvet banquettes & armchairs rounded out by well-starched tablecloths and elegant flashes of brass & gold trim.
And as for the food? Well, the opening menu includes the likes of corn-fed chicken with confit shallots, peas, baby carrots & tarragon jus; a marinated sea bream with confit lemon, grilled corn & marjoram; and a warm, steamed Muscavado sponge with spiced cherries, fig leaf ice cream and green pistachio. It's classic French stuff, but it sneaks in a little innovation here and there.
Beyond the restaurant itself, there's also a café serving up some quintessentially fancy French patisserie, and the place is, of course, a school as well, offering courses for the budding pros as well as the casual diners who simply wants to learn about food & wine pairing, global cuisines, and the like.
Assuming that's part of your own master plan, that is.
NOTE: CORD is open Monday to Friday. You can make a booking, and find out more at their website right here.
CORD | 85 Fleet Street, EC4Y 1AE
---
Love Les Bleus? Here are the best French restaurants in London…