Tasting menus.
Usually it's not the best idea. They're often quite papery.
But at Da Terra, they only serve tasting menus, and they're exquisitely good – so good, in fact, that they've been awarded a Michelin Star just 8 months after opening.
You'll find it in the the restaurant-sized space taking up a well-lit corner of Bethnal Green's beautiful Town Hall Hotel, a spot that's had some extremely good pedigree over the years. It's been the home to both Viajante – the restaurant that launched Nuno Mendes into the culinary stratosphere – and the Typing Room, which garnered some stunning reviews and put head chef Lee Westcott onto The Great British Menu.
Now, those boots have been filled by chefs Paulo Airaudo and Rafael Cagali. And, thanks to the fact that both of them have worked at The Fat Duck, as well as respectively taking stints at Michelin Starred places like Fera, La Bottega, and Amelia, they absolutely live up to the hype.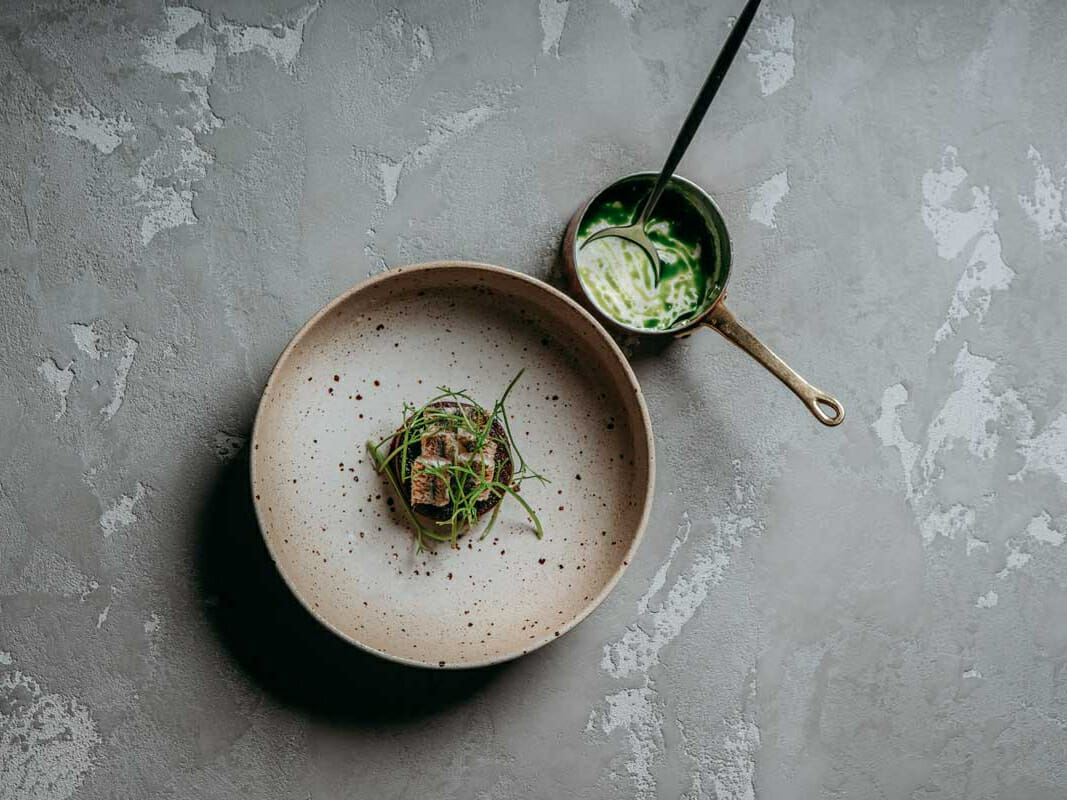 The space itself is an elegantly laid-out affair, with mid-century furnishings laid out across a beautiful parquet floor. The food is – as mentioned – tasting menu only, with 9-courses of dishes with distinct Italian & South American influences intertwined, and it features some of the most perfectly balanced flavours you're likely to have in the city.
Dishes, which come out with an introduction from the chefs themselves, are all surprising, interesting, and bracingly flavoursome. You'll be delighted by a creamy scallop, paired with sharp Granny Smith apple, and bridged with fennel. You'll have a warm, malty, richly satisfying loaf of house-baked sourdough with juicy bone marrow & cultured butter. You'll get a meltingly soft Brazilian pork belly dish with black beans and a herbal bouquet. It's all creative, and all prepared so perfectly you might be forgiven for suspecting black magic is involved.
It's all wine-paired of course (should you want), and there's a very handsome brass-topped bar if you're in the mood for a classic cocktail, or another glass of vino.
Just don't forget to ask for the tasting notes.
NOTE: Da Terra is open for lunch Fri & Sat, 12-2pm, and dinner Wed-Sat, 6-9.30pm. You can find out more, and book, at their website right HERE.
Da Terra | Town Hall Hotel, Patriot Square, Bethnal Green, E2 9NF
Last Updated: 8th October 2019
---
Want to know what Nuno Mendes is up to now? Check out Mãos.