DF / Tacos | Modern Mexican Cantina In Brick Lane
Apparently you've been wondering whether a casual, East Coast-style diner serving an experimental menu of American and Mexican fast food is open.
Which makes this quite the coincidence.
Because it is.
Se llama DF (named after the Distrito Federal, AKA Mexico City) and it can be found on old Brick Lane. Should you be interested in the backstory – and who wouldn't be – it's the brainchild of Wahaca founders Mark Selby and "cuisinier extraordinaire" Thomasina Miers, who came up with the concept of an American-influenced Mexican diner after selflessly voyaging around The US and Mexico for weeks on end, tirelessly sourcing delicious ingredients and tasting innovative, mouth-watering dishes so that you didn't have to.
Talk about taking one for the team.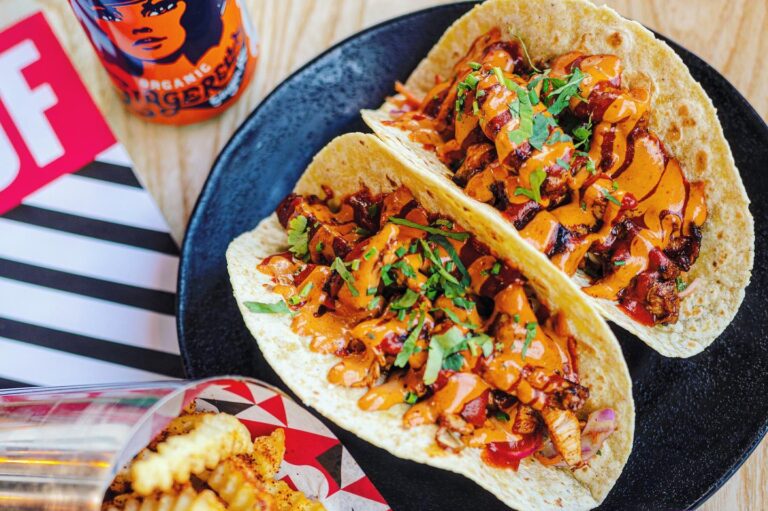 "A crash course in modern Mexico", DF's essentially a cross between Nando's (in that you order at a counter, and have your food delivered to your table, and there's refillable drinks stations), an American diner and a Mexican food truck serving dishes created by a former Masterchef winner.
Highlights from the menu include extra large 'Bad Boy' Burritos served with corn chips and guacamole; panko crumbed cod tacos; DIY Mexican boards like the Carne Con Chile (a combination of 4-hour slow cooked beef, cheese and cowgirl beans); burger-style NYC Tortas served with smashed avocado and chilli fries; Mexican beers; frozen margaritas and soft serve malted milk ice-cream topped with chocolate-dipped biscuit.
Ain't no malted milk ice cream at Nando's.
NOTE: DF / Tacos is open for lunch and dinner all week. Find out more HERE.
ALSO NOTE: DF / Tacos  has now opened two other locations in both Brixton and Tottenham Court Road
DF / Tacos | The Old Truman Brewery, 91 Brick Lane, E1 6QL
---
Love yourself some Mexican grub? Take a look at our guide to the best tacos in London