Duke of London may only place in London to serve pizza with literally dozens of Michelin tyres.
Because Duke of London is a classic car dealership with a Santa Maria right in the middle of it. And that's not the half of it – there's also a wine bar, a pub, and a coffee shop to go with the various vintage Jags, Ferraris, Lambos, and other such supercars. The whole place is a vast playground of neon, speed, and pale pink walls. And there's nothing else quite like it in the city.
You'll find it way out in Brentford, one of the few remaining places in London where you can find enough space for an enterprise like this one. Duke takes up residence in an old '30s soap factory sat on the river just opposite Kew Gardens, and the place is truly huge. Inside, apart from a fleet of stately & beautiful automobiles, you'll also find:
Santa Maria Pizzeria
Santa Maria is one of the original Neapolitan-style pizza places to land in London and show us all what a truly great slow-risen, flash-cooked pizza could taste like. This particular branch is housed in the corner of the showroom, looking out over the cars themselves. You'll find a scattered seating, a wood fired oven, and a Ducatti super bike casually leading against the bar.
Plonkers Wine Bar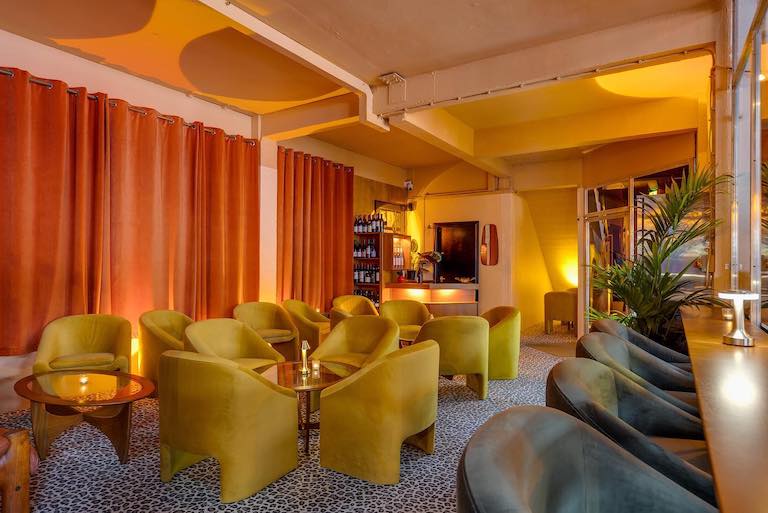 Sporting a mid-century throwback design (mustard-yellow seats, a leopard print carpet, etc.) Plonkers is open Thurs-Sat every week, starting with wine tastings on Thursdays, and ending with a dance floor on the weekend.
The Brewery Tap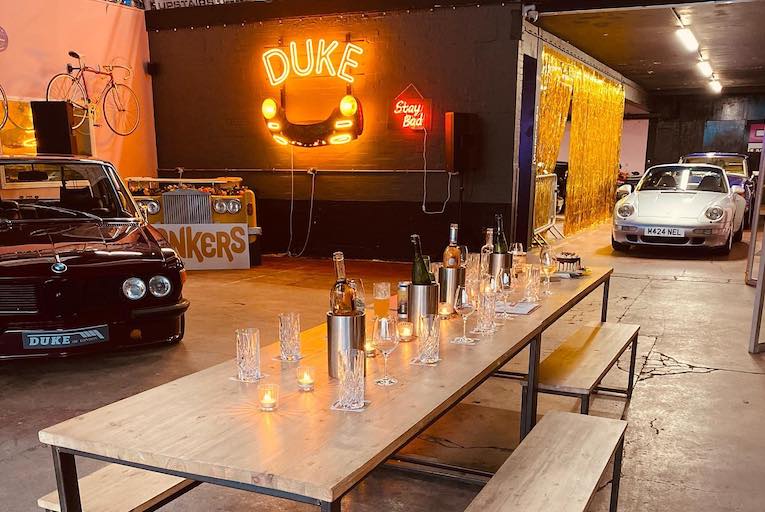 This is the venue's on-site pub, which sits slightly outside the showroom itself, opening out onto the river. Thus it boasts a beer garden, cask ales, and live music at least four nights a week.
Coffeeology
Nestled in yet another corner of the space is a coffee shop who'll happily fill your tank with some top-shelf caffeine, as well as cakes, pastries, and other such goodies.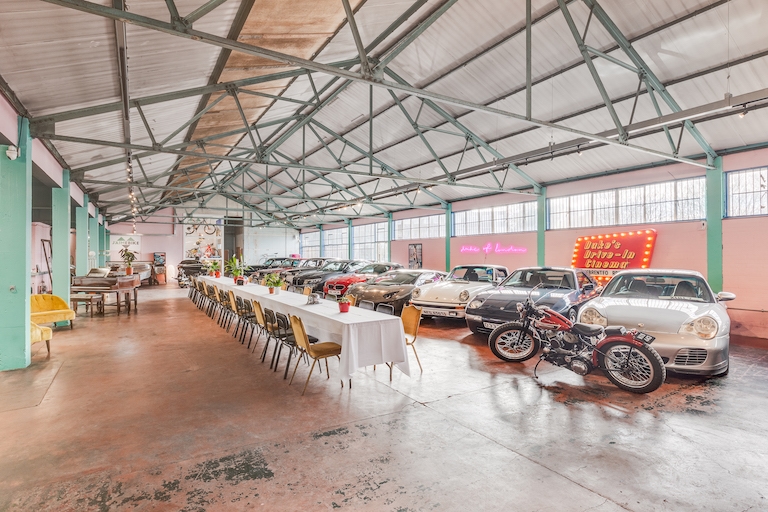 Annnd then there are the frequent popups that land there, the drive-in cinemas, the bacon sandwich truck that passes through, the monthly Classics & Cake meet-ups (in which people drive down their old school motors and eat a ton of cake), and more.
It may be named for a Duke, but this place is a small kingdom…
NOTE: Duke of London is open now, Monday to Saturday. You can find out more about the showroom and all of the various bars, restaurants & events at their website right here.
Duke of London | The Factory, Catherine Wheel Road, Brentford TW8 8BD
---
Looking for yet more food? Here are the best restaurants in West London…