EartH Kitchen | Stylish Café in a Cultural Hub
Food in cinemas.
It's finally been promoted above the kernel.
And it's all thanks to EartH Kitchen (which – to explain the weird capitalisation – stands for Evolutionary arts Hackney), that's opened in a former Art Deco cinema in Dalston. The restaurant space is set in the lobby of the cinema, which is on the first floor and can house up to 150 people. So, not too cramped. Crittal windows look out onto Kingsland Road, and a sculptural curved ceiling sweeps down over the room, with polished plaster walls and accents of colour provided by retro melamine-topped tables.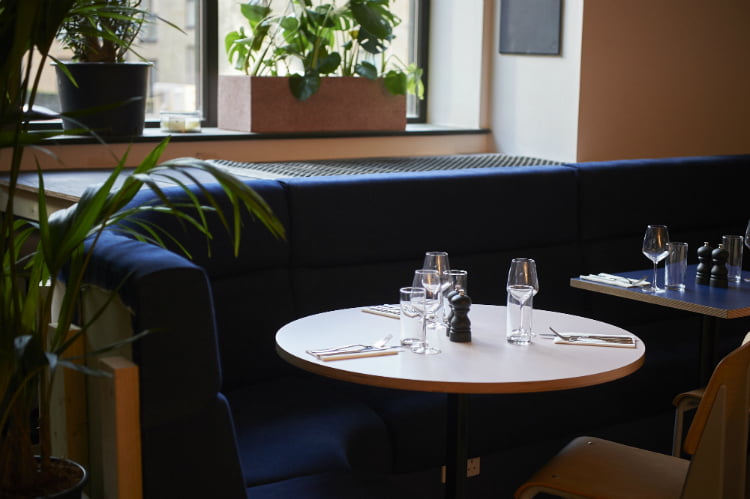 Foodwise, you'll currently find Tel Aviv-inspired stuffed pitas and salads on the menu, thanks to a long-term residency (we're talking four years now) by Shuk; who you might have spotted in Borough Market. Highlights include Shuk;'s beef-brisket pita which sees a soft, fluffy, freshly-baked pita stuffed full of beef brisket (braised for 12 hours in date honey, baharat spices and sweet red wine), bright pink pickles, baby gem; and a delicious paprika-y sauce. We're also big fans of the fish tagine which, as well as chickpeas for texture, comes with a with a whole load of flavour-punching herbs and sauces like harissa, amba tahini, fresh coriander, and dill.
The theatre space itself is now used for live gigs, with a lineup including everything from raucous Thursday jazz nights to low-key Sunday DJ sets. It's all helped along by the cocktail bar, helmed by former St John man: bar manager Toni Castillo, who's mixing up classic cocktails and pouring European-focused wines.
dalIt's a real blockbuster.
NOTE: EartH Kitchen is open on evenings when there's a performance or event on. You can't book, it's walk-ins only. However you can find out more about specific opening times, or the menu, via their website HERE.
EartH | 11-17 Stoke Newington Road, N16 8BH
---
Want the fresh stuff? Check out London's best new restaurants…