Electric Diner | Notting Hill Restaurant
When The Electric – according to some sources, the oldest purpose-built cinema in London – reopened as the boutique cinema it is today, it wasn't just goodbye to overpriced Coke / Popcorn "combo" meals and uncomfortable, crusty seating, and hello to big, leather, footstool-paired armchairs and drinks from their in-cinema bar.
It was also hello to the newly refurbished 'Electric House' private members' club upstairs, and a dimly-lit, upscale diner right next door.
The diner, though predictably called "The Electric Diner", is really the London outpost of Brendan Sodikoff's award-winning French-American diner "Au Cheval" – famous, they say, for serving up Chicago's best burger. Aesthetically, the Big Three are all ticked off – exposed brickwork; industrial-style lighting; red leather banquettes – but it's the food that takes centre stage.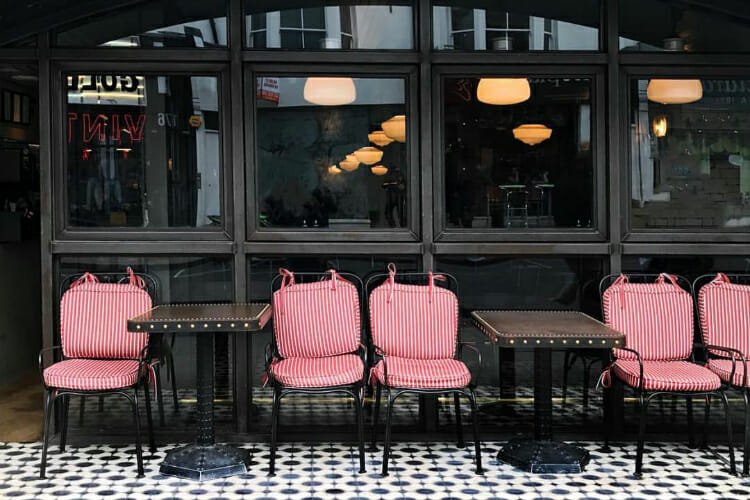 Open for breakfast from 8am, and serving right up until 1am at weekends, the menu covers everything from blue cheese omelettes and ham/ cheese/ fried egg sandwiches to mains like bone marrow with beef cheek marmalade, steak frites with béarnaise, and pork chops with apple sauce.
In summary: wear loose clothing, eat well… and then roll yourself into one of those big, leather, footstool-paired armchairs in the cinema next door to recover.
NOTE: The Electric Diner is open daily from 8am through till midnight (1am Thurs-Sat and 11pm Sun). You can find out more, and book a table, HERE.

ALSO NOTE: If you're seeing a film, you can get 50% off your meal, 5-6pm on weekdays, by flashing your tickets.
Electric Diner | 191 Portobello Road, W11 2ED
---
Enjoy quality dining experiences? Check our our London Restaurant Bible