Evelyn's Table | Michelin-Starred Chef's Table in Soho
Welcome to Evelyn's Table.
The good news is – seeing as it takes reservations – it can be your table, too.
You'll have to be quick, of course, because the entire restaurant is but a single, L-shaped marble bar, seating up to dozen voyeurs around the bustling open kitchen.
Its diminutive scale is necessitated by the fact that it's crouched in the renovated wine cellar beneath 250 year old pub, The Blue Posts, and represents the final part of the inn's restoration into a three storey palace of food and wine by the folks behind vaunted restaurants The Palomar and The Barbary. Which is convenient, because should you need to wait for a table (around half are kept back for walk-ins), you have the perfect excuse to survey the top-floor bar, The Mulwray, and its refined wine list first.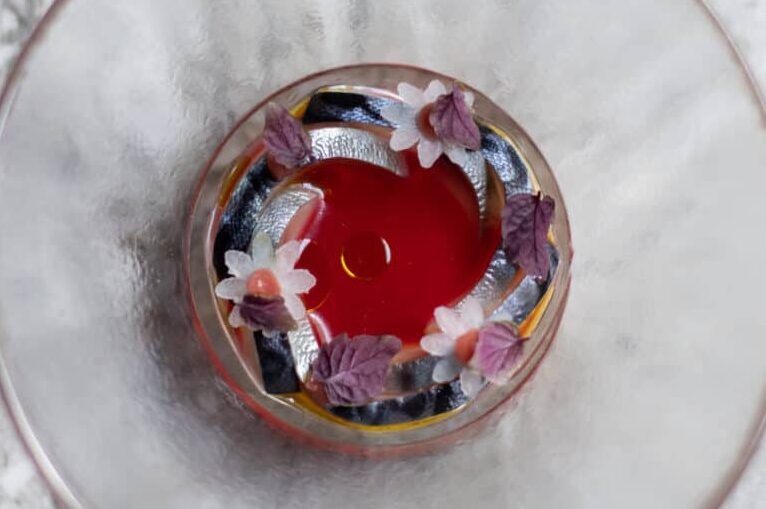 Named after Faye Dunaway's character in the film Chinatown, this intimate subterranean space shares the same elegant, beautifully designed aesthetic as the two floors above, with the marble dining counter surrounded by muted walls, and topped by retro brass lamps, and smart, bespoke plates. Drawing back the velvet curtain separating it from the bustle upstairs, you'll take your seat alongside 11 other diners at the open kitchen, headed up by the fantastic Luke Selby, and his brothers Nat and Theo. What a dream team.
They'll dutifully dish up an exquisite five course menu of seasonal dishes influenced by Japanese and French culinary techniques. The menu changes constantly, but you can rest assured that whatever you're served will be unfailingly delicious: Luke won the place its first Michelin star within months. And if you want to push the boat out, there's the option to pair each course with some hand-picked wines courtesy of sommelier extraordinaire, Honey Spencer.
Making it all too easy to end up under the Table, too.
NOTE: Reservations for Evelyn's Table open each Monday at midday. You can make your booking, and find out more, HERE.
Evelyn's Table | Below The Blue Posts, 28 Rupert Street, W1D 6DJ
---
Where next? Onwards, to our favourite Soho bars…