Evernight | Bib Gourmand-Winning Izakaya
About five years ago, most Londoners probably couldn't tell you where Nine Elms actually was, and restaurateurs like Chase Lovecky & Lynus Lim probably wouldn't have opened a sleekly intimate Japanese izakaya there.
Then, ol' Johnny Tube Station came along and changed all of that.
Now, it's one of the most rapidly developing areas of the city, with shops, bars, and restaurants pouring in at a staggering rate. And restaurateurs Chase Lovecky & Lynus Lim have opened a sleekly intimate Japanese izakaya there. And with combined CVs that include places like The Laughing Heart, The Clove Club, and Two Lights, it's no surprise that they've pulled it off so well, either.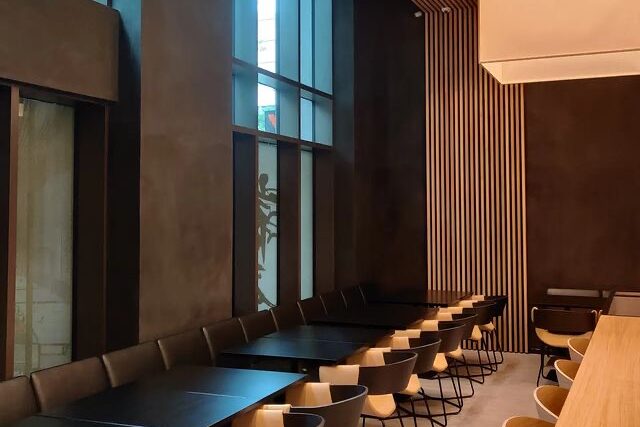 It's called Evernight, and it's housed in the fancy new Embassy Gardens development outside the US embassy. And being a fancy new building, they've taken the opportunity to create a whole new space, bussing Italian architect Ettore Tricarico to scratch-make a dark, moodily modern space with black walls, pale wood furnishings, and pinstripes of mahogany lining jutting down from the ceiling.
We sort of breezed past the word izakaya earlier, so for anyone wondering just what that is, it basically translates to the Japanese equivalent of a pub, but with dozens of small plates… which basically translates to you as a place that isn't all about sushi.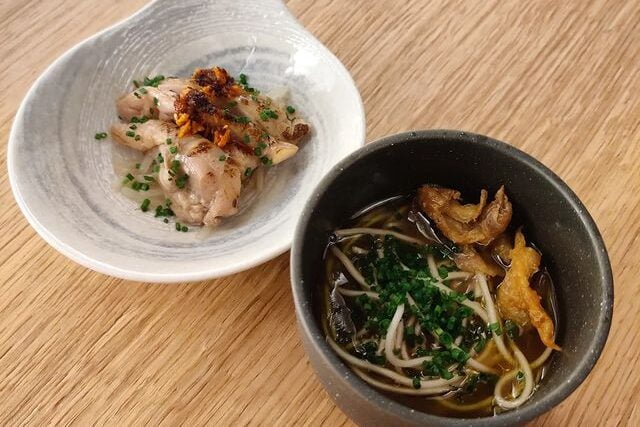 Hence, on the menu, you'll find dishes made with Japanese techniques, but almost all-British produce, changing regularly according to the "micro-season". In keeping with the pub vibe, the bites are small, shareable, and plentiful, ranging from crispy fried monkfish karaage with white soy sauce, to some elegant little parcels of pork & hispi cabbage gyoza with cistrussy yuzu ponzu, and a plate of bull's heart tomatoes with dashi stock & cinnamon basil. And yes, there's some sushi.
Washing that down is a long list of low-intervention wines, an almost-as-long list of sakes & shochus, and a considerably shorter list of two cocktails (a Sakura Negroni & a Yuzu Highball).
And one beer.
NOTE: Evernight is open for dinner, Wednesday to Saturday. You can find out more, and make a booking at their website right here.
Evernight | 3 Ravine Way, SW11 7BH
---
Love Japanese food? Check out our favourite sushi restaurants in London