Flat Iron Soho | The Legendary Steakhouse That Started It All
When it comes to steak, your preferences are clear: chargrilled on the outside, slightly pink on the inside.
And, occasionally, undercooked.
But that's rare.
Charlie Carroll also knows what he likes – great steak, at affordable prices. So following the success of what was once a mere summer pop up back in 2012 (which offered exactly that), he quietly launched a permanent version over 3 floors in Soho. And then also not-so-quietly launched ten more steak restaurants across London after the original became an instant hit.
This very original, Flat Iron Soho, comprises a dimly-lit, triple-floor space that combines battered concrete, exposed brickwork and wood panelling with vintage cast iron enamelled lights (reclaimed from Smithfield Meat Market) and wall-mounted meat cleavers. It's less of a dungeon than it sounds, honestly.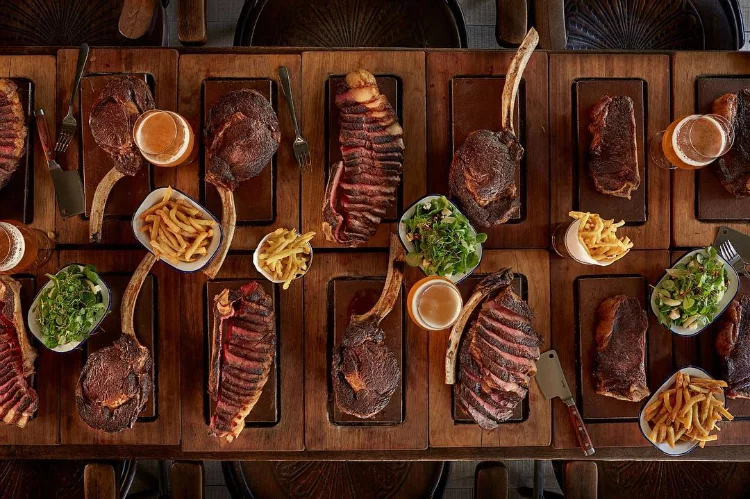 In the intervening years, blissfully little has changed about Flat Iron Soho (except for their walk-in only policy: now, thankfully, you can etch that date with a top-tier steak in your diary in stone). Surrender all free will while perusing the one item menu – a mouth-watering Flat Iron steak for £13, accompanied by a choice of sides like dripping cooked chips, creamed spinach and market greens. Vegetarians can join safe in the knowledge that the aubergine parmigiana can be scaled up to a main portion, and is one of the most delicious in the city.
After your meal, you'll merrily peruse the well-chosen wine list, or perhaps plump for their Mr. Whippy-style salted caramel mousse in a mug (served out of an aerosol can, naturally), with rock salt crystals to scatter according to your whim. And yes, you will want to order about twenty of them.
It's a mousse-trap.
NOTE: Flat Iron Soho is open daily for lunch and dinner. You can find out more, and book, HERE.
Flat Iron Soho | 17 Beak Street, W1F 9RW
---
Enjoy quality dining experiences? Check out the best restaurants in Soho