At the stately age of 53, you might expect Frederick's to have become jaded over time.
Quite the opposite.
Frederick's is a stalwart restaurant found down Camden Passage, a mere stone's throw from Angel tube stop. Starting out life as a pub, the restaurant was established by Louis Segal in 1969 and it has been owned and run by the Segal family ever since. Today the restaurant is in the hands of Louis' son, Nick, and his cousin Matt. They're both occupied with offering diners the very best experience and it shows in the rave reviews and roster of regulars.
As you approach Frederick's (note the charming etched-glass frontage), it appears too small to house the palatial, light-filled dining room that opens up once you step inside. It feels homely without being stuffy, gleaming without being clinical and cheerful without being TGI Friday's. The interior design is muted for the most part, with uplifting splashes of colour seen in the artworks that decorate the walls. The main restaurant area practically chimes during service, the glass roof creating a pleasing, high-ceilinged space that fills with the delicate clatter of cutlery against plates and excitable chatter.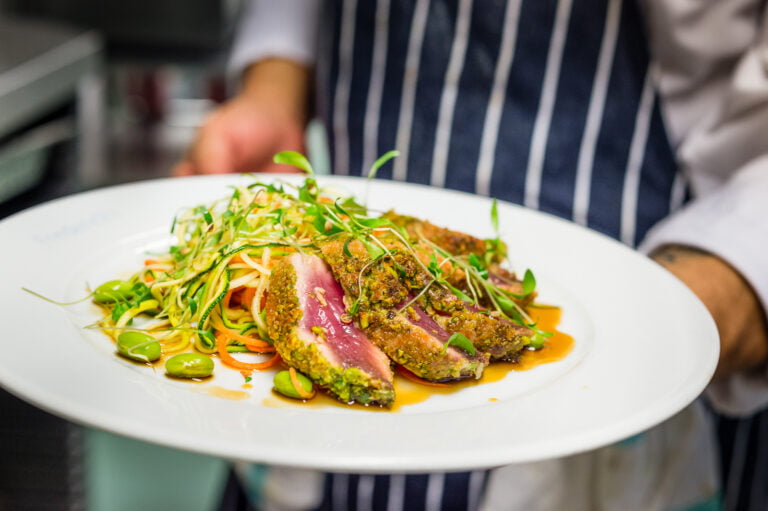 Well accustomed to throwing a party, Frederick's also has two spacious private dining rooms; The Club Room on the ground floor with its own private bar, terrace and view of the garden, plus the more intimate Clarence Room on the first floor, which was once used as a drawing-room.
Onto the menu, which deserves your full attention. The seasonal menu is peppered with classics such as beef carpaccio, salmon en croûte and baked Alaska. Look down the running order again and you'll find a hint of experimental flair that plays out in the artful plating of each dish. The result is a considered lineup of tried-and-tested favourites prepared with care, and zhuzhed up to taste truly delicious.
By now you're thirsty. The wine list has over 200 entries to choose from, including sought-after bottles from France, Italy and California. You can't go too far wrong with a glass of the Thiénot Brut Champagne to whet your appetite or quench your thirst with Frederick's house cocktail, made from a refreshing mix of Prosecco, Lillet Blanc and elderflower.
Perfect for when you're feeling a little jaded.
NOTE: Frederick's is open for lunch and dinner Tues-Sat. Private parties are welcome Sun & Mon. You can find out more, and reserve a table, HERE.

Frederick's | Camden Passage, Islington, London, N1 8EG
---
Looking for somewhere to eat? Check out the best restaurants in Islington