Spitalfields Market is one of those places where you can find just about anything.
And if you head through the market, towards the Western end, going past the guy selling antique binoculars, the bao bun trailer, the wooden sock stall, the Swedish toy shop, and the Latin American chocolatier, you'll come to a little French bistro attached to the side of a church…
This is Galvin Bistrot & Bar.
It comes to us from the Galvin Brothers, the proud owners of four London restaurants, one of which just happens to be inside that church: the Michelin-starred Galvin La Chapelle is their flagship, and Galvin Bistrot & Bar is the casual little brother tagging on, and trying to forge its own way.
Part of that more casual identity is reflected in the decor, which has colourful chairs and vibrant artwork underscoring a classic bistro vibe, with a silver polished bar, and a gleaming pressed tin ceiling. Out the front, meanwhile, there's a sizeable terrace area that overlooks Spital Square itself.
THE RESTAURANT BIT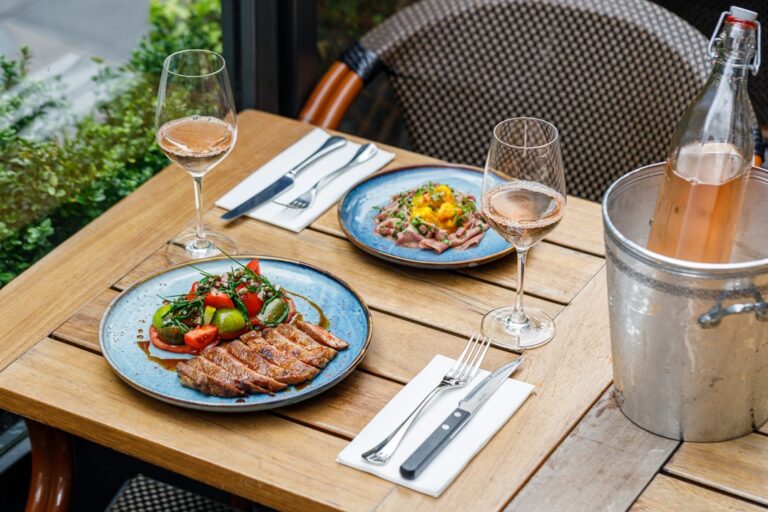 On the menu, they're encouraging sharing with a trio of sizes: Bites, Little Plates, and Big Plates. The Bites are considerably larger than a mere bite, with generous mouth-size portions of things like chorizo croquettes with saffron aioli & tarte flambée Alsacienne.
Going larger, the Small & Large plates encompass the likes of confit pork belly with pickled walnut puree; grilled mackerel with fennel & orange; and a slow-cooked duck leg with iced plum. As for the desserts? They boast one of the fluffiest, finest whipped mango cheesecakes in the city, country, and possibly world.
THE BAR BIT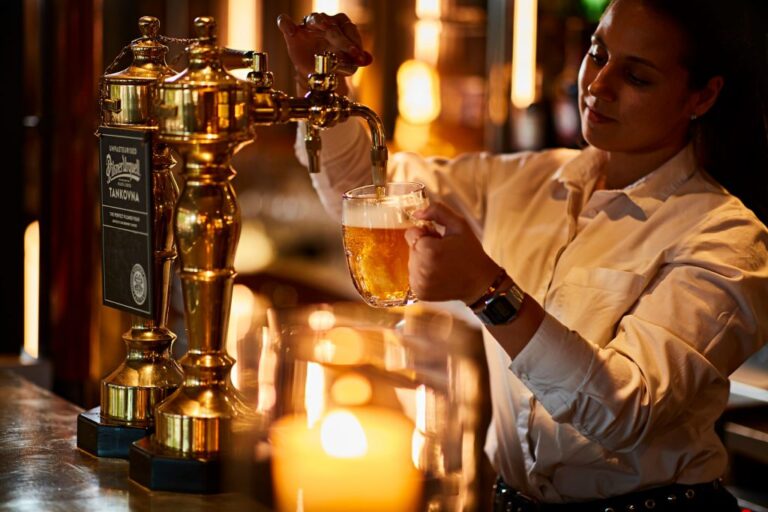 Sitting just below that pressed tin ceiling you'll notice a trio of gleaming copper tanks, hung above the bar. These are filled with some of the freshest beer in the city; unpasteurised Pilsner Urquell delivered straight from the brewery, and good for only a couple of weeks before they need a refresh.
Joining the beer, they have a solid cocktail list including classic Sours (Bourbon, Pisco, Amaretto), Mai Tais, and a Smoked Ice Tea with whisky & rhubarb liqueur. And naturally, they have an extensive, French-leaning wine list, several of which are even available on tap.
Which is pretty grape.
NOTE: Galvin Bistrot & Bar is open daily from 12-10.30pm (11.30pm Fri/Sat, 6pm Sundays). You can find out more, and make a booking at their website right here.
Galvin Bistrot & Bar | 35 Spital Square, E1 6DY
---
Like Theatre? Check out our guide to the best London theatre shows playing right now.