Harry's Dolce Vita.
It's pretty sweet.
Joining an already spectacular series of eateries from Caprice Holdings (The Ivy, Sexy Fish, J. Sheekey etc.) it serves '50s and '60s inspired Italian food and drink to Knightsbridge locals all day long. 
Which makes sense, considering the interiors are lifted straight out of an old movie; with wood-panelled walls and parquet flooring, brassy antique mirrored ceilings and soft-focus retro lighting. Making your way through the studded gold door under the turquoise striped awnings outside, you'll spot the long, central bar – behind which barkeeps are shaking up fancy-looking cocktails; and intimate cabaret-style tables clustered round the vast windows.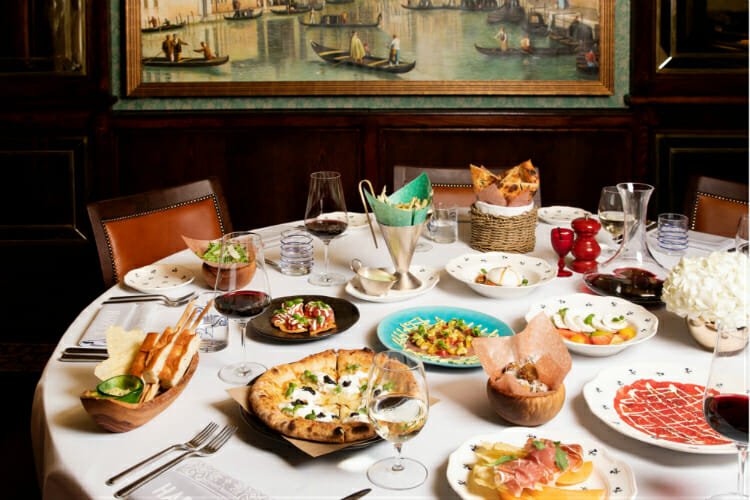 It's at these tables that they'll be serving your classic Italian fare. The menu features dishes like Pappardelle al Ragù Bolognese and Spigola Al Cartoccio (an entire sea bass baked in a paper bag, dressed with fennel, rosemary and Amalfi lemon), as well as, perhaps expectedly, a plentiful dessert offering including panna cotta, cannoli, and tiramisu. And, perhaps unexpectedly, this mousse shaped like a toadstool.
For drinks there's Italian wines, beer, and cocktails a plenty, all of which you can either enjoy propped up on a leather bar stool at the aforementioned fancy bar, al fresco on their terrace, or from the comfort of your table.
Now that's the good life.
NOTE: Harry's Dolce Vita is open 8am to 12am Monday to Saturday, and 9am to 12pm on Sundays. You can find out more and reserve on their website right HERE.
Harry's Dolce Vita | 27-31 Basil Street, Knightsbridge, SW3 1BB
---
Why not head here for dessert after a steak at the Hawksmoor next door…