Kensal Rise is on the rise.
At least as long as places like Harvest keep opening.
It's a cosy & slightly playful new all-day diner from chef Jesse Dunford Wood, who also runs the the laidback and fun-loving Parlour, and the smarter, more mature Six Portland Road, both of which are a hop and a skip away. But this particular place almost feels more like you're visiting your slightly cooler older sister's house, than an all-day restaurant.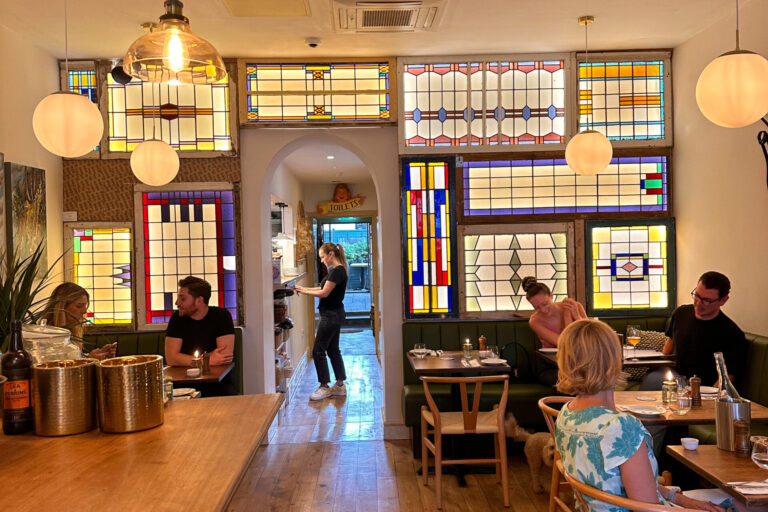 Rock up and you'll find the front garden – a sun-drenched terrace which is slightly shielded from the street with flowers where you can watch the world go by. Inside, you'll be greeted by uber-friendly staff that will likely make you feel at home instantly by giving you a tour of the space.
The first thing you'll notice are the beautifully restored rose pink and violet stained-glass windows that make up the furthest wall of the restaurant which seemingly mimic multiple front doors stacked on top of each other. Wrapped around the whole room is a cushioned olive leather settee which is paired with dark wooden tables and pale wood and woven chairs. Head on under the arch of stained glass and you'll find yourself in their fairy-lit back garden decked out with long wooden tables with herb style pots propped on top.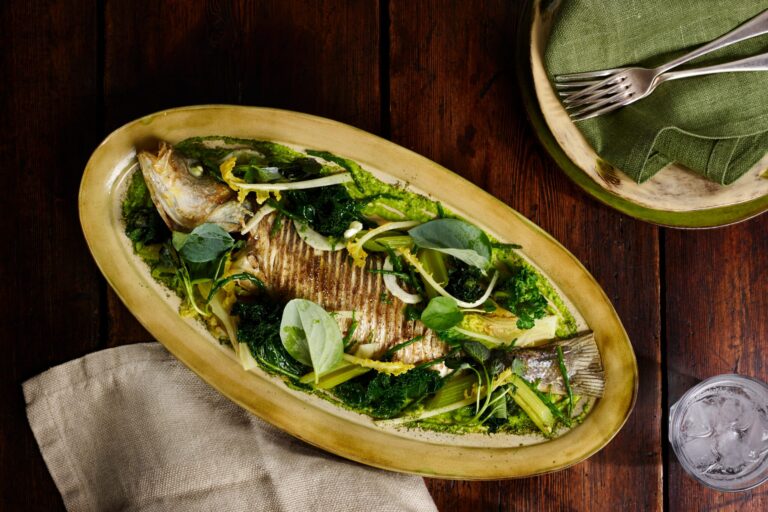 So, what's the food like? Pretty damn good. With a name like Harvest, there's an understandable emphasis on seasonal vegetables which compliment local and sustainable fish and meat. The kitchen is all day, every day so you can drop by whenever you please to receive a good, fresh, hearty meal. For breakfast you can get yourself porridge with raisins, plum jam, lemon curd, banana and peanut butter. Meanwhile for lunch you can expect things like a warm spinach and cheddar flan with chestnut mushrooms and slow-cooked onions and watercress, scallops with pea puree and mint vinaigrette. For dinner, there are sharing plates like the whole sea bass with lots of lovely green things, like seaweed potatoes, courgettes, samphire and leeks.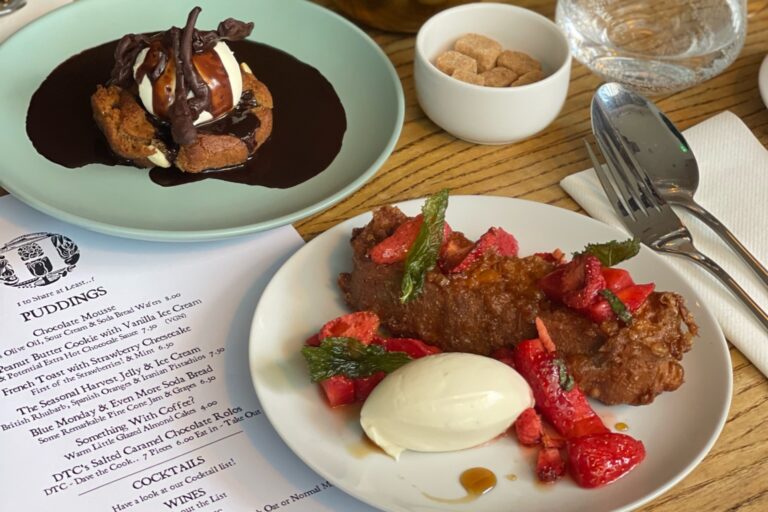 On the drinks front, you can expect a wine-led menu with a huge choice from both the New and Old Worlds with a list that stretches from Italy to Bulgaria, via South Africa and New Zealand. They've also got a strong cocktail selection, but what stands out most about it is that they offer a wide selection of options for dry drinkers. They've got a range of non-alcoholic, mood enhancing cocktails like the Light & Stormy (Three Spirit Nightcap and ginger beer) making sure that everyone is catered for.
You'll be sure to feel at home here.
NOTE: Harvest is open 7 days a week from 8am – 11pm. You can book a table or find out more information HERE.
Harvest | 68 Chamberlayne Rd, NW10
---
Boat-to-table fish sound good? You'll want to check out the best seafood restaurants in London…