After five glorious years, the original Hawksmoor in Spitalfields picked up this sister venue in 2011, located in the old Combe's hop-house within Seven Dials near Covent Garden.
Yes, it had long been brewing.
By 1880 Combe's was the second largest brewery in London, where every year Lord Mayor Harvey Christian Combe hosted a steak dinner attended by the great and the good. Rather fitting.
What was appealing about Hawksmoor's flagship venue, and what continues to appeal with Hawksmoor Seven Dials, is their clear commitment to providing the best British beef available (lovingly-reared Longhorn cattle from North Yorkshire), cooked on a real charcoal grill.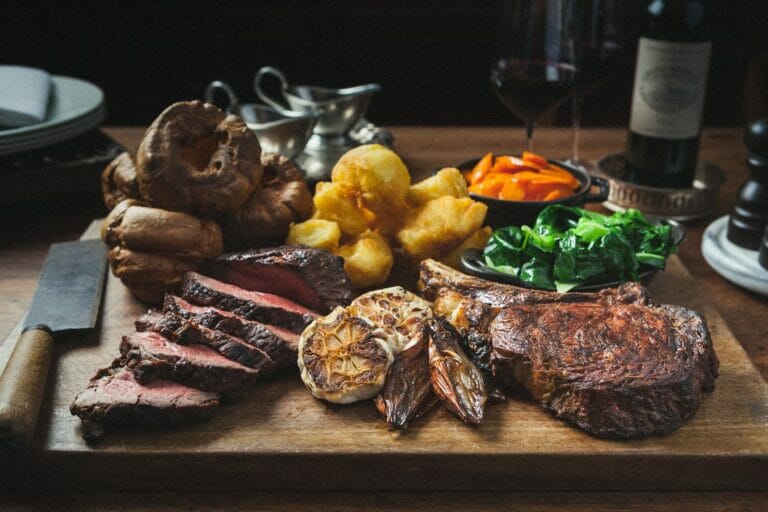 The all-day bar menu at Hawksmoor Seven Dials includes lamb chops, pork belly ribs or the 100% Longhorn Hawksmoor burger (washed down, of course, with Champagne cocktails, Shakey Pete's famous Ginger Brew, and their four 'ultimate' martinis, served at -12°C). For lunch and dinner in the main restaurant, though, the focus is very much the steak, with huge Porterhouse and Chateaubriand cuts that – when combined with the Hawksmoor's stilton hollandaise sauce, a couple of fried eggs or a half lobster and beef-dripping chips plus one or more of the range of sides on offer – will leave you unlikely to be clamouring for a third course.
Their proximity to theatreland has not escaped them, and there's also the opportunity to indulge in a quick-fire two or three courses pre-theatre, including potted beef & Yorkshires, aged rump steak and peanut butter shortbread for under £30.
Hawskmoor Seven Dials encourages those patrons who might be interested in doing so to establish a Beef Steak Club. Such clubs were first noted to have sprung up in London during the early 18th Century; "part members' club, part secret society and all based around the wonder and marvel of beef steaks."
Guidelines for their establishment come from one of the most famous clubs of its time: the Sublime Society of Beef Steaks which suggested 3 meetings per year, payment by whip, and no more than 24 members (or "Steaks").
The toast at each session was "Ne fidos inter amicos sit, qui dicta foras eliminet", or, "What's said at Steak Club, stays at Steak Club".
NOTE: Hawksmoor Seven Dials is open for lunch and dinner daily – you can find out more, or book a table right HERE.
Hawksmoor Seven Dials | 11 Langley Street, WC2H 9JG
---
Item 1 on your Beef Steak Club agenda: tick off all of London's best steak restaurants