With so many Italian restaurants in London, it can be hard for a new spot to stand out.
They cannoli do so much.
Not so, however, for il Pampero, the restaurant tucked inside Belgravia's Hari Hotel. With a kitchen helmed by ex-Novikov chef Carmine Giannino, you'll find Italian classics given a sophisticated, contemporary update, with everything sourced directly from the Italian producers.
Making your way through the slick hotel lobby, you'll find this semi-subterranean jewel at the back, sporting geometric floor tiles, forest green walls and glints of gold. Intimate leather booths are tucked into corners, while a marble horseshoe-shaped dining counter takes pride of place at the restaurant's heart.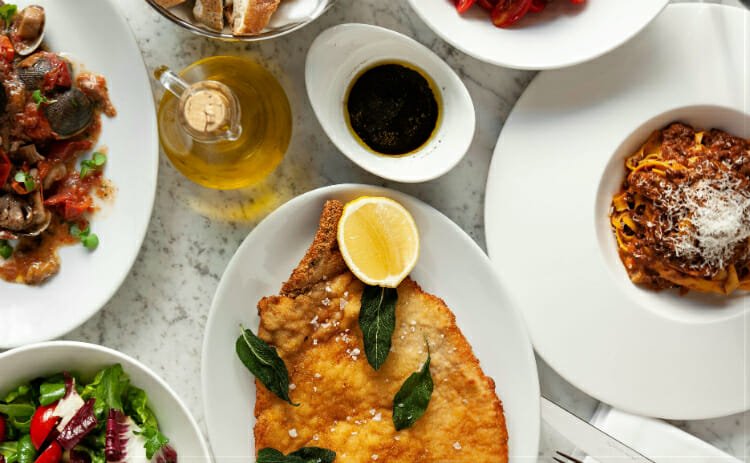 Starters range from the well-behaved (rocket and artichoke salad with almond & mint pesto) to the blow-out (beef carpaccio with parmesan chips), leading up to freshly-made pasta dishes like tagliatelle with tiger prawns and lime, or a textbook cacio e pepe that's served up tableside by folding the pasta into a giant wheel of Pecorino cheese.
For any non-pasta fans, there's a 28 day-aged sirloin steak or delicate grilled seabream – which can be topped off with their limoncello-drenched baba, or their semifreddo tiramisu, a solid ice cream prism with a chocolate-lined tunnel, into which steaming espresso is poured before your eyes…
Which has a proper name in Italian…but affogato.
NOTE: il Pampero is open daily for breakfast until 11am, then dinner 6-10.30pm, every day except Thursday & Sunday. You can make a reservation on their website HERE.
---
il Pampero | Hari Hotel, 20 Chesham Place, SW1X 8HQ