Kahani | Solo Debut from a Fantastic Indian Chef
Kahani is the Hindi word for story.
Which is a coincidence, because we're about to tell you one.
It's one which starts, many moons ago, in Chennai, with the birth of one Peter Joseph. He spent his childhood weaving through the street food stalls and markets of that bustling city, perhaps dreaming of the day he would bring those flavours to the people of London. Or perhaps just dreaming of regular kid stuff. Either way, he grew up to man the pans in big kitchens across the country, before moving to London, as sous, then head, chef of the Michelin-starred Tamarind, and its Soho offshoot, Tamarind Kitchen. In fact, Tamarind was the first Indian restaurant to earn a Michelin Star anywhere. And Peter Joseph helped them keep, polish, and maintain it for ten years.
Which brings us to the next chapter in his story, Kahani – the first solo venture from this most talented and creative chef. The menu here tells his own story, in a way, marrying a contemporary approach to Indian cuisine with seasonal British ingredients.
This Chelsea restaurant has a light-yet-luxurious feel, with eggshell white walls, chandelier lighting, and armchair seating, as well as a few flashes of vibrant colour inspired by the feathers of a peacock.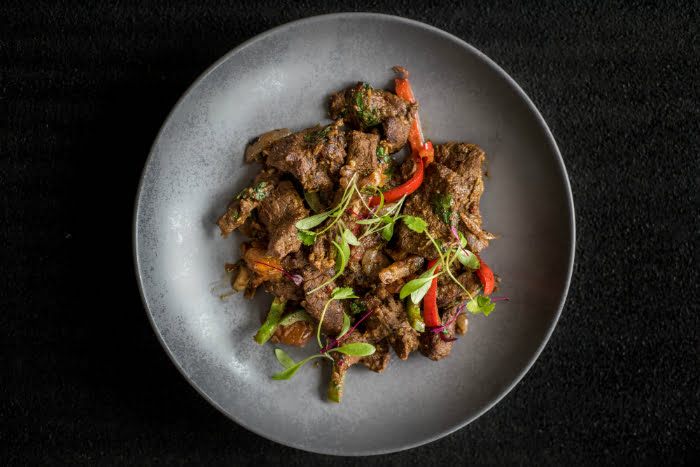 The food at Kahani leans away from Tamarind's more traditionally Northern Indian dishes, and instead focuses on a blend of British & Indian cultures; expect the likes of gorgeous Somerset lamb chops with Kashmiri chillis; a whole trio of chicken tikkas; a venison keema tossed with shallots, fenugreek, and served with a truffle naan; and some smoked Malabar prawns with coconut & Keralan spices.
Desserts include their 'melt in the middle' cheesecakes; a tandoori pineapple with coconut yoghurt; and a chilli chocolate mousse bomb.
Which makes a happy ending to any story.
NOTE: Kahani is open now, with bottomless brunch on weekends and live jazz on Thursday evenings. You can find out more, and book a table right HERE.
Kahani | 1 Wilbraham Place, SW1X 9AE
---
Like fine dining? Get the low-down on every Michelin-starred restaurant in London…