Katsute100 seems a little out of place. 
Slapped right in the centre of the hustle and bustle of Islington's Camden Passage, the pretty Georgian building is a strangely calm, placid oasis.
The name comes from the Japanese word katsute, which roughly translates to a sense of nostalgia. It's appropriate then, that its interiors evoke a distinctive old world quality. The vibe is traditional tea room meets old-school London pub. The walls are a midnight blue hue (punctuated with floral wallpaper) and antique Japanese furniture features alongside dark wooden mid-century tables and chairs. Shelves and cabinets display Japanese ceramics and tableware, which are available to purchase (but are also just lovely to look at). And if it's a sunny day? Do your best to snatch up one of the few tables in the leafy courtyard out the back.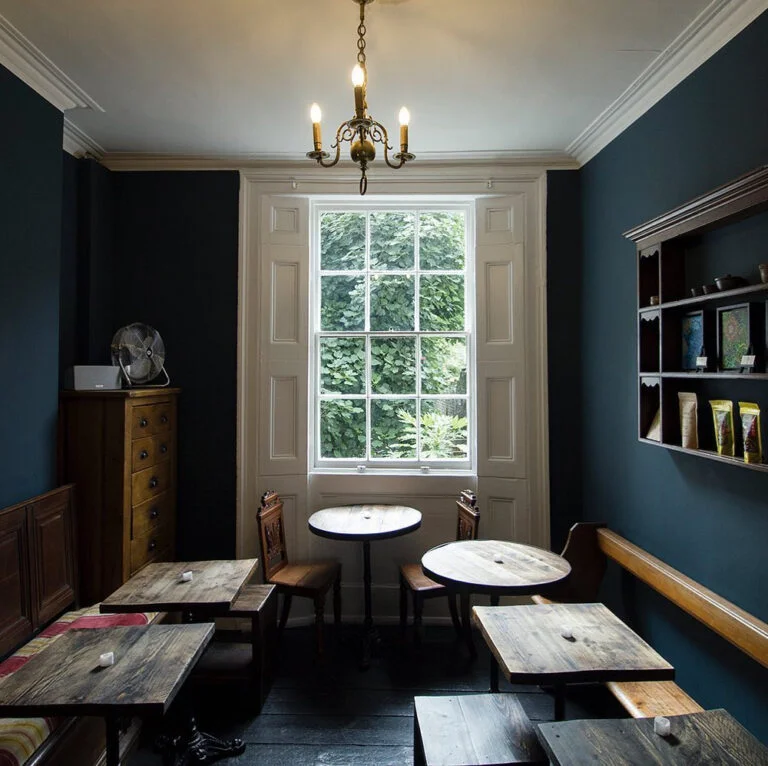 The menu features an impressive selection of loose leaf teas sourced directly from small Japanese producers. There are the classics – like sencha, gyokuro and oolong – as well as unique infusions like Yuzucha (sencha combined with yuzu) and Aomori Dattan Sobacha; a herbal infusion of roasted buckwheat kernels. If loose leaf quite literally isn't your cup of tea, opt instead for a creamy matcha or black sesame latte.  
And if it's the tea that gets you in the door, it's the cakes that'll keep you there. The delicately layered matcha crepe is an Insta-friendly indulgence that almost looks too good to eat (we assure you, that won't be a problem for long), while the Mont Blanc tart is a sweet & nutty treat. There are also matcha and yuzu brownies, strawberry shortcake, and the rather novel fruit sandwich, which is exactly what it sounds like. 
And trust us, it's good.
NOTE:  Katsute100 is open daily. There's also a second branch in East London, Katsute100 Brick Lane. You can find out more at their website right HERE.
Katsute100 | 100 Islington High Street, N1 8EG
---
While you're in the neighbourhood… here are the best restaurants in Islington.