Kima | 'Fin-To-Gill' Dining in Marylebone
Make no bones about it, zero-waste dining is the future.
And the good news is that there are already a handful of flag-bearers demonstrating that eating sustainably can also mean eating very, very well. It started with the pioneering 'nose-to-tail' revival led by Trevor Gulliver and Fergus Henderson at St John, and now Andreas Labridis and Nikos Roussos are hoping to do the same for seafood at Kima.
They're the people behind both INO Gastrobar and the beloved OPSO in Marylebone – and in fact you'll find Kima right opposite the latter. It's an exceptionally intimate space, with room for just a few diners, yet the deep blue banquettes and whitewashed walls are almost enough to persuade you that you're in a sun-drenched Greek taverna (helped along by a soundtrack of breezy Balearic beats).
The first thing you'll see when you enter, however, is the raw bar showcasing the pick of the day's swimmers, and a couple of dry-ageing cabinets whose hefty blocks of Himalayan salt are serving to dehydrate (and slowly intensify the flavour of) the enormous hunks of fish resting inside. These hunks are carefully butchered cuts that make the most of the whole fish, from what the Kima team are calling the 'shank' (the meaty part of the fish that tapers towards the tail) to the 'collar' – via huge racks of tuna ribs which can be sliced just like steak.
You'll be encouraged to pick out the cut that takes your fancy, or even an entire fish (John Dory T-bone, sir?), which will then be whisked down to the kitchen and prepared in two ways: firstly, as a raw dish of sashimi or carpaccio, before the remainder is slung over charcoal and presented to you, grilled, as a main, either on a bed of fricassee (lemon juice & wilted greens) or 'giouvetsi', a traditional Greek stew of orzo and tomato. The sea bass carpaccio on our visit was astounding – little slivers of rose-tinged fish so tender it could almost dissolve on the tongue, dressed in lemon zest, thyme, rock salt and some truly amazing olive oil (it's a big deal here – they've spent a lot of time finding the right one, and it's an intensely flavourful oil made from unripe Manaki olives).
If you'd rather sample a range of dishes, you can also order three or four to share from the à la carte. Here you'll find oysters dressed with fennel salsa; eel 'soutzoukaki' (lamb meatball) with aged soy & egg yolk; and octopus xidato. You might have previously come to the conclusion that you're not an octopus person, but here it's gorgeously tender on the inside; crisp and caramelised on the outside, owing to the sweet but earthy red wine vinegar marinade. Oh, and don't be led to believe the smoked potato mash with pickled mustard seeds would be a good side to share. You need one of those bad boys each, and a personal spoon.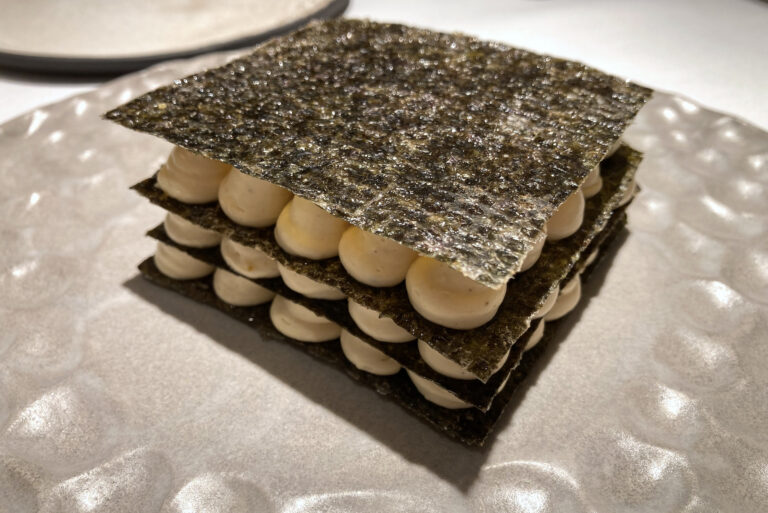 To accompany your feast, you can take your pick from the varied Greek wine list, the selection of sake, or even one of the signature cocktails – the Feta Sour is made with traditional Greek drinks like ouzo and mastiha infused with feta for two days, then clarified. And you'll also want to save a sliver of space for the '75 Dots Seaweed Mille Feuille' – a dessert-slash-sculpture where sheets of nori seaweed, rather than pastry, are sandwiched together by as many dots of coffee cream & amaretto jelly.
And trust us, you won't be letting any of that go to waste either.
NOTE: Kima is open for lunch Wed-Fri, brunch on weekends, and dinner Wed-Sun. You can find out more, and book a table, HERE.
Kima | 57 Paddington Street, W1U 4JA
---
Fish fan? Here are the best seafood restaurants in London