The word kin means 'family' in English, and 'eat' in Thai.
Which, as linguistic coincidences go, is pretty much spot-on for a family-run Thai restaurant in London.
And this particular venue has been in the Inngern family for a long time now. For years it was called Suchard Freehouse after patriarch Suchard Inngern. He came to London in the '70s with a dream, a deep bucket of elbow grease, and a twenty pound note. Somehow, he transformed those into a thriving restaurant, and after a few decades pleasing critics & punters alike, he decided to retire in 2018.
His three kids, eager for the opportunity to make their own mark on the London food scene, then happily took the reins. They renamed the place, gave it a new lick of paint, modernised the menu, and relaunched it as Kin + Deum. It's now a considerably more elegant, simplified space. The carpets have been ripped out to expose the wooden floors below. The lighting is more subtle. The white walls now have a thick belt of mint green paint running along them.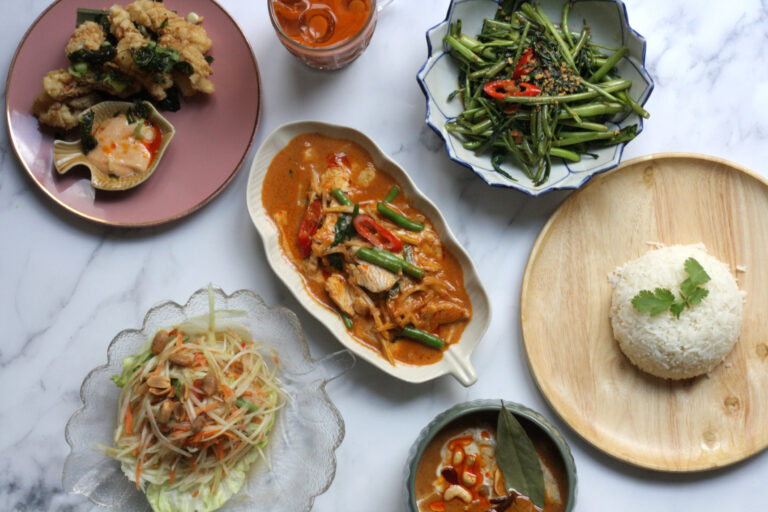 And the interior isn't the only thing that's been simplified. The biblically long menu has been reduced to a few modernised standouts. Expect the likes of red duck with pineapple & bamboo, or a slow-simmered massaman curry with cinnamon, cashews, and potatoes. But the keystone holding everything together is the tamarind crispy eggs. They're cooked with shells on whilst immersed in tamarind, which gives them a deeply rich colour & flavour and soft golden yolks. They're a Thai street food staple, and they're essential with a meal here.
Being a modern London restaurant, there are cocktails too. The barkeep will shake up anything from a gin martini laced with chilli & coriander, to a Bangkok Negroni featuring a punchy dose of kaffir lime leaves. Oh, and for those who want to complete the East-West linguistic symmetry of the restaurant's name, deum means 'drink' in Thai.
And 'God' in Latin.
NOTE: Kin + Deum is open for lunch and dinner, Monday-Friday. You can find out more, and make a booking at their website right HERE.
Kin + Deum | 2 Crucifix Ln, Bermondsey, SE1 3JW
---
Looking for other great restaurants in the area? Take a gander at our guide to the best restaurants in London Bridge.