Kitchen Table has sat on London's list of Michelin Star restaurants so long, it's almost become part of the furniture.
And no wonder, because this intimate chef's table helmed by James Knappett and Sandia Chang is one of the city's most exquisite dining experiences. After the pandemic, the Charlotte Street restaurant was given a brand spanking new look – and it's involved much more than just your garden-variety lick of paint…
Previously, Kitchen Table hid behind a curtain at the back of Bubbledogs (the place that paired hot dogs with Champagne) and really did resemble sitting inside a restaurant kitchen with steel counters and industrial lighting. But now, everything's gotten moodier (in a good way), with the steel replaced by oak, a fireplace added in, the old orange leather seats swapped out for elegant navy blue ones and the interior itself angling more towards secret Japanese speakeasy territory. And what of Bubbledogs? It's now been converted into a snazzy lounge area where you can exchange pleasantries with all 18 of your excitable fellow diners over cocktails and canapés, before settling into one of London's most spectacular food shows.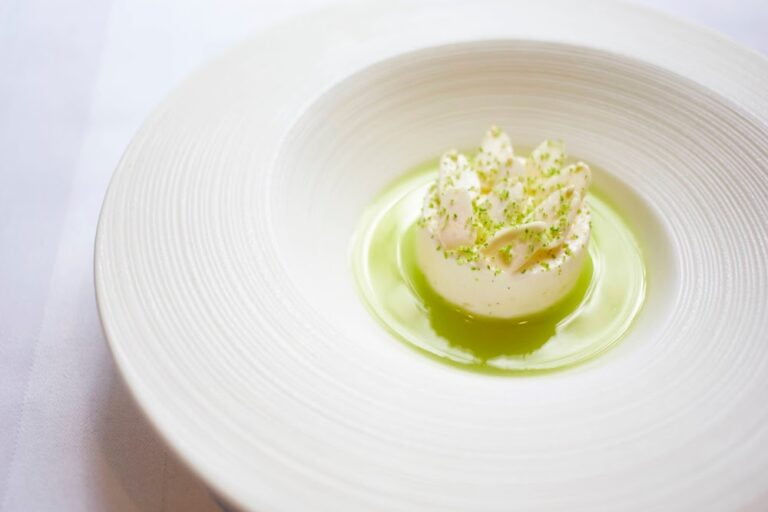 That's still hosted by Knappet, of course – once of The Ledbury and Noma – and he guides you through the entire Kitchen Table experience (£200pp), dish by dish, explaining, prepping and then presenting each plate with imperturbable aplomb (there's roughly 20 courses all in, and the menu is created afresh every day to showcase the produce at its peak performance). Each dish is built around a sole ingredient and described rather nonchalantly in one word like 'trout' or 'deer', but as you might have guessed, there's a little more to it than that. You'll find that the deer is fallow deer belly – slow-cooked and roasted – while the trout has been cooked in foie gras fat, and served with trout roe and a madeira (Portuguese fortified wine) and onion consommé. And if you're veggie? You won't have to miss out, because Kitchen Table also offers an alternative tasting menu that's just as long (and impressive).
The portions aren't huge or heavy – quite the opposite, in fact – so even with 20 courses under your belt, you won't feel like a slug, and the whole thing is capped off with a meticulously-assembled grouping of petits fours; which may include Tahitian vanilla ice cream with Alba white truffles or the canelés that anyone who comes to Kitchen Table gets worked up about, made with Madagascar vanilla and rum. If you're willing to splash out even further, there's three drink pairings curated by master sommelier Chang: inventive non-alcoholic cocktails (£95), one with wine (£160) and the second with Grower Champagnes (£250) from small labels.
Apparently they also partner well with hot dogs…
NOTE: Kitchen Table is open Tuesday to Saturday, with reservations bookable up to three months in advance. There's one seating each night, at 6pm, and you'll need to book ahead (£200pp total), which you can do right here.
ALSO NOTE: Want a more affordable taste of Knappett's menus? Head to The George, Fitzrovia.
Kitchen Table | 70 Charlotte Street, W1T 4QG
---
If you enjoyed this… you might like to visit another of London's Michelin starred restaurants…