Koya City | Soul-Nourishing Noodles in Bank
Here's something to wrap your noodle around.
Soho's modest, traditional udon den Koya Bar has got a sophomore follow up in the glitzy Bloomberg Arcade development in the City, rubbing shoulders with Caravan City and the plush eatery from the Gymkhana team, Brigadiers.
It's a slightly bigger space – which isn't saying much given the teeny dimensions of the original – with a terrace spilling out onto the covered avenue outside. The interiors, meanwhile, are decked out with the same Japanese minimalist charm – countertop dining by the open kitchen, traditional noren curtains, and a wash of specially sourced blue ceramic tiles across the floor.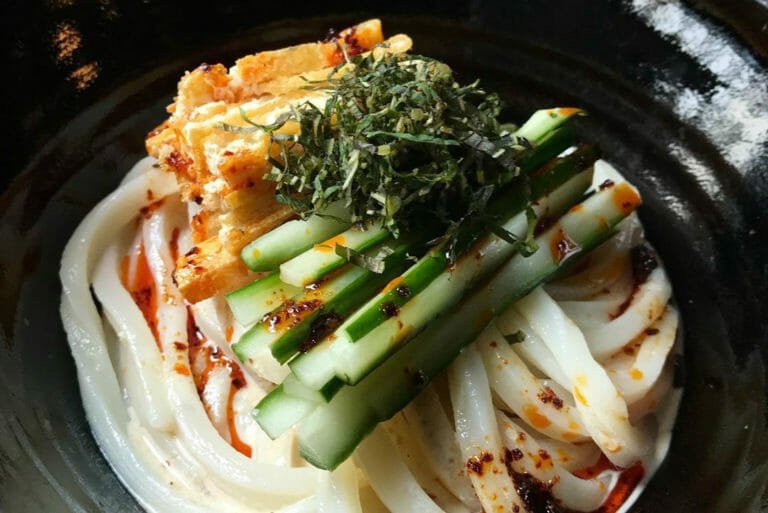 In the mornings, you can casually swing by for a Full English Breakfast udon, with egg, bacon and shiitake mushrooms; or kippers with poached egg, buttery rice and miso soup. And as the day wears on, you can get hold of their signature udon bowls bearing fresh, handmade noodles, alongside signature dishes like tonkatsu (breaded pork with a fruit miso sauce) and a vegetable kakiage tempura udon. Besides this daily menu, they're also plating up a blackboard of seasonal specials from chef Shuko Oda, like clams, broad beans and capers steamed in dashi butter.
Drinks-wise, you can wash down this noodle feast with a list of top-notch sakes, or take a dip into the seasonal cocktail list created by Tony Conigliaro's Drink Factory.
After all, these noodles are udon, not soba.
NOTE: Koya City is open daily for breakfast through to dinner. You can find out more, and make a booking at their website right HERE. You can also check out Koya Soho and Koya Ko.
Koya City | 10-12 Bloomberg Arcade, EC4N 8AR
---
Like noodles? Slurp away at London's top ramen restaurants