La Bodega Negra | An Elusive Mexican Restaurant
Good news: we've found your new favourite restaurant.
It's been hiding underneath Soho for a little while, but unfortunately the directions to get you there are a little complicated…
First head to a colourful street-level café and taqueria called "La Bodega Negra" on Moor Street. Ignore that, and tiptoe around the corner to Old Compton Street instead. There you'll find the illuminated entrance to a seedy-looking sex shop: an entrance so raw, authentic and unforgiving as to give you no reassurance whatsoever that it's not exactly what it appears to be.
Having ventured inside you'll find a man standing in front of a glass cabinet of erotic paraphernalia. As mentioned earlier, this is complicated. If he's holding a clipboard and standing opposite a cloak room kiosk, then you're in the right place. If he's not, then you should probably leave. Quickly.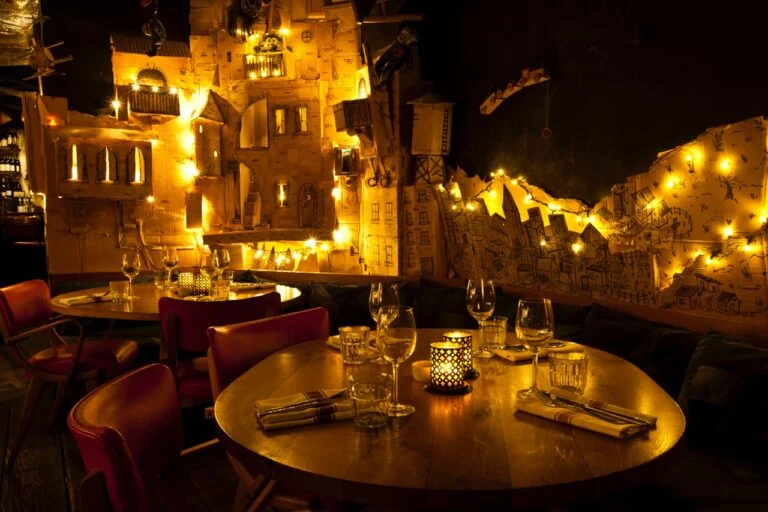 Assuming that you have a reservation, you'll be invited to descend the staircase at the back of the shop, into an aromatic, candlelit cavern serving tequila-based cocktails (which you should explore, deeply, as this is one of the best tequila bars in London) and a menu that includes crispy squid tostadas; soft shell crab and chipotle tacos; scallop and hibiscus ceviche; slow-roasted lamb barbecoa and crispy pork belly. You'll spot barkeeps rattling together one of their ten house margaritas, or drinks like the Potion 10 (with olive oil-infused pisco, Noilly Prat, Lillet and olive brine). Welcome to La Bodega Negra, one of the finest Mexican restaurants in London.
In short, it's a buzzing, hacienda-style, subterranean den enveloped by battered concrete walls; old tequila barrels; one large, deconstructed piano tipped on its side; and – most surprisingly of all – other diners, all of whom have somehow managed to fall down the same rabbit hole as you…
NOTE: La Bodega Negra is open Monday-Saturday. Reservations are required – ensure that you book into the main "downstairs" restaurant, and not the café. You can find out more, and make a booking, HERE.
La Bodega Negra | 9 Old Compton Street, W1D 5JF
---
Like going out to eat in Central? Here's more of the best restaurants in Soho