Somewhere in Belgravia lies a French restaurant so preposterously picturesque that it surely can't, actually, exist.
For La Poule au Pot (that's 'the chicken in the pot', mais oui?) is less a 'restaurant' than the concept of 'Frenchness' personified, concentrated, and expressed in its purest form, somehow, in the heart of London's SW1.
It's somewhere that shakes away the urgency and stress of the city with an insouciant shrug, and irresistibly transports its guests to a Gallic countryside retreat – a place of languorous three hour lunches, of garlic-slathered escargots, of rich boeuf bourguignon, of gorgeous Dauphinoise potatoes, hearty onion soup, and wildly-indulgent steak frites, sloshed down with a generous magnum (that's right, that's the measurement du jour for house wines) of Syrah.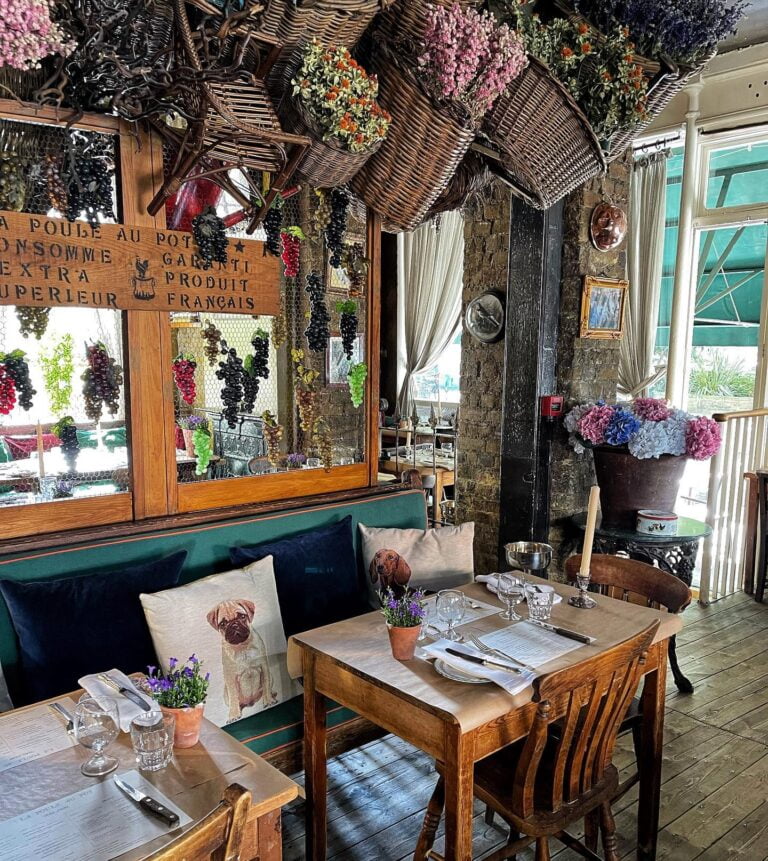 It's been around, seemingly, forever – and you can see why. La Poule au Pot, which stays open throughout the day, allowing the late-lunchers to mingle seamlessly with the early dinner reservations, offers an eternal vision of dining as it should be; indulgent, a little bit silly, and somewhere that takes the business of fun ever so seriously.
Resplendent on the corner of Ebury Street, with its green canopy and hand-painted sign, it has you under its spell from before you even make it through the doors – at which point the affaire d'amour truly begins. You'll fall, despite yourself, for the tumbledown, bohemian interiors; the wonderfully crumbly exposed brickwork, the ramshackle-yet-infuriatingly-appealing crockery, and the candles, candles, everywhere. It's artful, but it's effortless. C'est chic.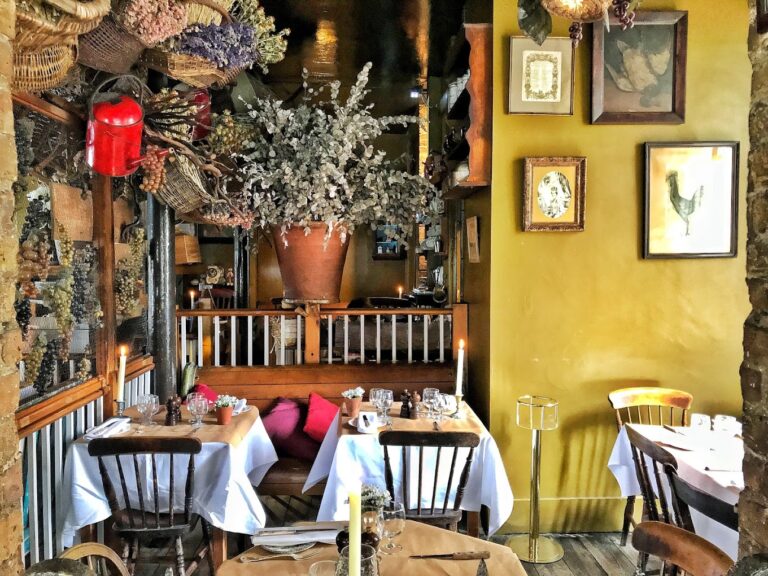 So the food – let's return to that, shall we? At La Poule au Pot you'll gorge on pâtés, rillettes, cassoulets (including, in a startling nod to modernity, meat-free versions!), veal escalope, scallops, and Dover sole – all notable for their generosity of both flavour and portion-size – before sending yourself into a dreamy post-meal food coma with a crème brûlée or tarte tatin that you'll whisper about in your sleep for years to come.
Eventually you'll totter back out into the street – heavy of stomach but light of heart – safe in the knowledge that you've experienced one of London's truly unique, truly great restaurants, and that if (when) you return, literally nothing will have changed. At most, the people you were dining next to last time you ate there may, perhaps, have finished their lunch.
It is, in short, everything – literally everything – you could possibly want a French restaurant to be. And un petit peu more.
NOTE: La Poule au Pot is open daily 12-9pm. You can make a reservation right here.
La Poule au Pot | 231 Ebury St, SW1W 8UT
---
All hail the midday meal. Have a peep at the best lunches in London…