Le Bab | Soho Restaurant Serving Gourmet Kebabs
The following is an experiment in reverse psychology.
You probably won't want to read it.
After all, it's only about kebabs. And yes, while the word 'gourmet' gets thrown around a lot, almost to the point of losing all meaning, these are gourmet kebabs. From a trio of chefs who left Le Gavroche and its two Michelin stars in order to cook them. Which we hasten to add, you probably wouldn't be interested in.
Le Bab is on the uppermost level of Kingly Court, in a small-but-light space bedecked with Mediterranean tiles, wooden floors and a huge slab of concrete acting as a bar area which overlooks the open kitchen.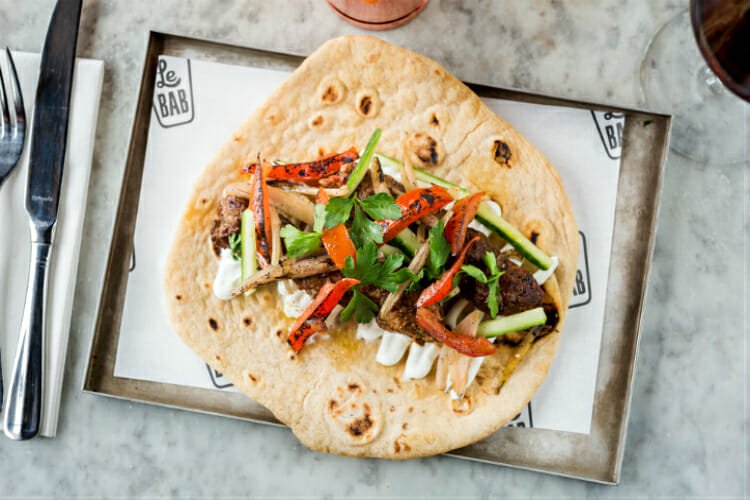 The kebabs themselves, which rotate seasonally, are all cooked on a wood and charcoal-fired robata grill in that open kitchen, before being throw artfully onto house-made flatbreads. You'll find classics like the corn-fed chicken shish with 'chicken crackling' and heritage carrot tops, alongside more boat-pushing numbers like the roe deer adana with Jerusalem artichoke crisps and blackberry & chilli jam. They offer one of the most unusual bottomless brunches in London on weekends. And there's even a sharing kebab that comes as a half pig's head which you can pull apart.
You know, like all kebab places.
To wash it down they have a carefully curated wine list, a carefully curated beer list and a carefully curated cocktail list from which you should definitely order the Smokey Sour (mescal, Laphroaig, lemon, agave). Head along and you'll also find a short selection of starters (maftoul risotto, lokma doughnuts and meatlafel) plus glacé walnut sundae and crème brûlée for dessert.
If you were interested, that is.
NOTE: Le Bab is open daily; you can find out more and book on their website HERE.
Le Bab | Top Floor, Kingly Court, Carnaby Street, Soho, London W1B 5PW
---
Like great restaurants? Check out our excellent guide to the best restaurant in every London neighbourhood