The late Joël Robuchon was a culinary legend.
His first restaurant won 3 Michelin stars within as many years of opening. He was named "Chef of the Century" by France's (other) restaurant guide, Gault Millau. And he held the highest number of concurrent Michelin stars (32) by any chef, ever.
Hoping to live up to his legacy is a new opening under the Robuchon moniker: Le Comptoir Robuchon in Mayfair. It's a more dazzling space than his (now closed) Covent Garden Atelier, with decidedly modern finishes – from the rich saffron seating to the art deco-inspired lighting. There are booths crammed into the right hand side of the dining room, but the hot tickets are the stools up at le comptoir. Overlooking the kitchens, it's a more intimate counter than the Atelier's – you'll be perched a metre away from the chefs as they plate up Robuchon's world-famous pomme purée.
Matching this more modern interior is a lighter style of service – less stiff than its Michelin-starred predecessor. The dishes, too, are all designed to share. But if it all sounds like a bit of a shift, don't worry – the kitchen is headed up by Jeremy Page, who worked with Robuchon for 13 years at the original L'Atelier de Joël Robuchon in Paris.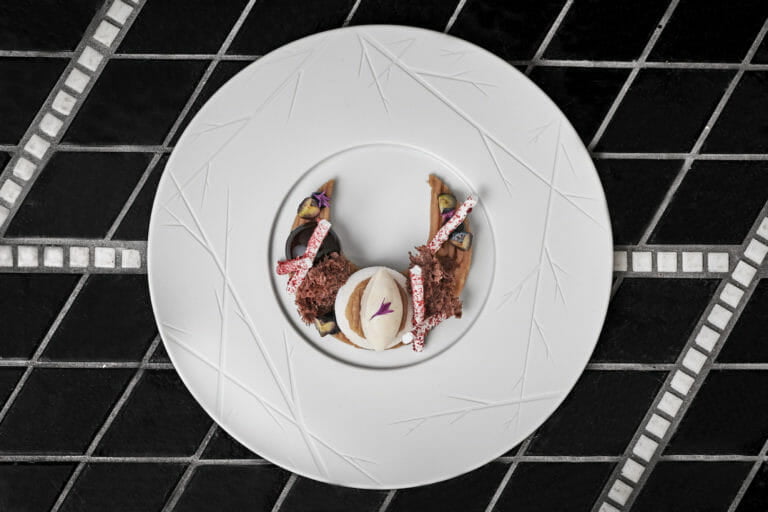 He's plating up some of Robuchon's classic dishes on the Les Eternels menu (including that famously silky mash), while flexing his own culinary muscles on La Saison, which showcases seasonal produce and Page's own distinctive flair – like La Pluma, a dish combining tender 'pluma' cuts of Iberico pork with padrón peppers and garlic. Each dish is pristine in its presentation. But if you're not one for the dainty portions of classic fine dining, head here on a Sunday – the lunch is a colossal feast with roasts to share, Bloody Maries and sides like leek & comté crumble, and pomme banane.
And for dessert? Chocolate & whiskey soufflé; deconstructed tarte tatin; and a perfectly pitched cheeseboard.
The stilton really hums.
NOTE: Le Comptoir Robuchon is open for lunch and dinner daily. You can find out more, and book a table, HERE.
Le Comptoir Robuchon | 6 Clarges Street, London, W1J 8AE
---
Looking for somewhere to eat? Take a browse through our pick of top Mayfair restaurants