Legare | Michelin Bib Gourmand-Garlanded Italian
You'll find Legare at the base of the Cardamom Building. It's an old Victorian spice warehouse down a flat-cobbled street criss-crossed with iron walkways in the shadow of Tower Bridge.
The buildings there are all named after the spices that were stored in them; Cardamom is next to Cayenne, and opposite Vanilla & Sesame. And you couldn't find a much more appropriate space for this brilliant Italian restaurant, which continues that old-fashioned tradition of basically acting as a conduit of flavour for the city.
The space itself is quite small, but inviting nevertheless, with room for roughly two dozen diners at a time in tables, booths, and bar seating. The walls are all washed in a pale pastel, and punctuated by the occasional bright abstract painting, and no-one is more than a few yards from the bustling open kitchen.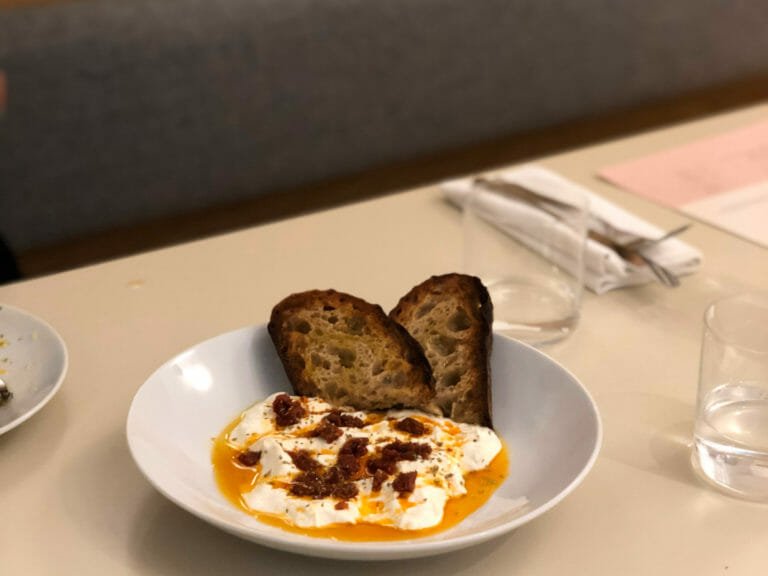 The power duo behind the entire operation are Jay Patel (formerly the general manager of Spanish giant Barrafina) and chef Matt Beardmore (sous chef at Italian stalwart Trullo). They've gone all-out Italian here, making fresh pasta daily on-site, and sourcing everything they can't make from a meticulously well-curated selection of suppliers.
The upshot? A seasonally rotating menu of Southern Italian goods, which might start with antipasti like rich, red prawns with charred lemon; creamy stracciatella cheese with spicy sobrasada sausage, oregano & olive oil; and a strikingly fresh citrus salad with punchy mint leaves, fennel & radish.
The fresh pasta comes from a relatively short list, and has previously featured coin-like orecchiette with fennel sausage & a herb-loaded cavolo nero ragu; flat stracci with crab, chilli, garlic, and saffron; and little agnolotti parcels filled with Neal's Yard goats curd.
To drink, there's a concise list of cocktails (literally six) and a considerably less concise list of predominantly Italian wines.
NOTE: Legare is open now – you can see the full menu, and make a booking at their website right HERE.
Legare | Cardamom Building, 31G Shad Thames, SE1 2YB
---
Like fresh pasta? Then you'll love these fresh pasta restaurants, presumably.