Leong's Legend | Suitably Legendary Dumplings
In order to get into Leong's Legend, you'll first need to find it amongst rows of restaurants on Chinatown's Gerrard Street, duck under the wicker awning, and knock on what *appears* to be a locked door.
And, depending on what time of day you arrive, it may well actually be a locked door.
Hopefully you're there around lunch or dinner, and it's swung open by a bracingly direct host who – like the rest of the waiting staff – is not there to fawn over you, but as a means to an end. That end specifically being the delivery of you to a seat, followed by the delivery of delicious food to you.
The decor is simple and functional, with wooden stools and bamboo light fittings. There are no plush banquettes, no bouncy leather, no chandeliers. And none of that matters a jot, because here, it's all about the (very reasonably priced) food.
That food is all Taiwanese, giving it a slightly more unusual lilt to its Chinese neighbours. You'll find dishes here that are both rare, and rare to do well. And Leong's Legend does them well. For one, you're almost *required* to order the xiao long bao – soup dumplings, to you. Leong's as the first UK restaurant to serve them. They're little parcels of pork or crabmeat suspended in a nourishing hot broth, all wrapped up in a single glossy dumpling. Pop one in your mouth, and it will quite literally burst with flavour.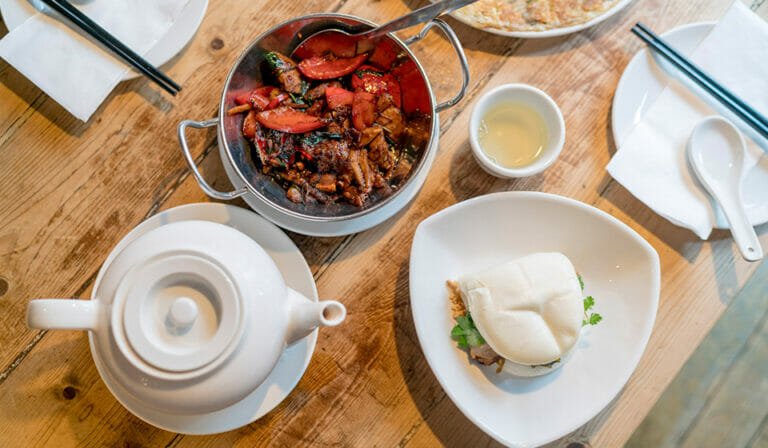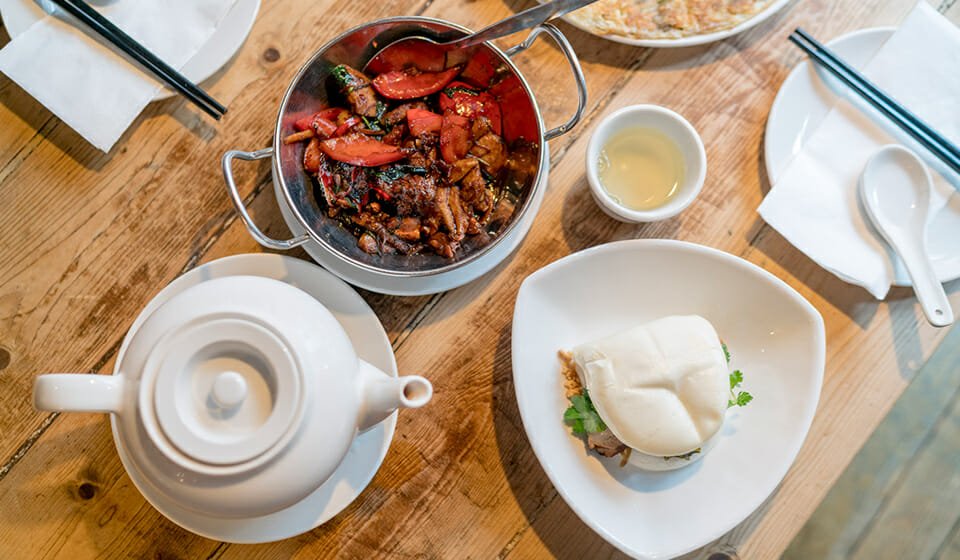 Then there are the bao buns, which have been recently made popular by BAO. Leong's have been making them for decades (fun fact: Ronnie Scott's original jazz cafe was in the basement of Leong's back in the '50s) and they're considerably cheaper here. As is Taiwanese tradition, the fluffy white buns are stuffed with a meltingly good wedge of pork belly that's been decorated with coriander and crushed peanut.
Beyond that, you'll find the likes of oyster omelettes (just try it); some fiery beer-cooked chicken with glass noodles and a combo of fried & fresh chillis; plus a little stir-fried crab that's been literally buried in fried garlic and Szechuan chilli.
And as for the name? It's a reference to one of the Four Great Classical Novels of Chinese literature, a story called The Water Margin, in which a group of 108 noble outlaws gather on Mount Leong in order to lay the smackdown on the corrupt government below.
But of course, Leong's has become something of a legend in its *own* right now.
NOTE: Leong's Legend is open now for eat-in or delivery. You can make a booking by calling 0207 434 0899.
Leong's Legend | 39 Gerrard St, W1D 5QD
---
Looking for great bao? Well, BAO is another good place to start…