If you rearrange the letters of 'postmen', they get really upset.
And if you rearrange the letters of Ellory, you get Leroy. (Okay, almost.)
The reason we mention this is because Michelin starred London Fields restaurant Ellory has effectively upped sticks, rearranged, and replanted itself nearby in Shoreditch as Leroy. And, just for the sake of completeness, earned itself a Michelin star within a couple of months of opening, too.
And the reason for all this was – believe it or not – because Shoreditch has cheaper rents than London Fields. So they're grabbed the opportunity to shake things up with both hands, and completely rebuilt the menu & concept from the ground up. The upshot? The new place is distinctly more Parisian than its pan-European forbearer and, like any good Parisian restaurant, it's alllll about the wine.
The space itself is light, airy, and basically triangular, with a long marble bar (a welcome hangover from Ellory) drawing the eye to the open kitchen behind it. And it's from that kitchen that they're producing…
THE FOOD
The plates are designed for sharing, coming either tapas-small or two-person large, with the former offering the likes of scallops 'en coquille' (gratin-style with wine, breadcrumbs, and cheese); skewers of confit chicken gizzards with lardons & a duck-egg yolk; some hefty ricotta dumplings with peas & artichokes; or boudin blanc sausage with potato puree. The larger options, meanwhile, will net you dishes like a two-person portion of brill with white wine, borage and monks beard.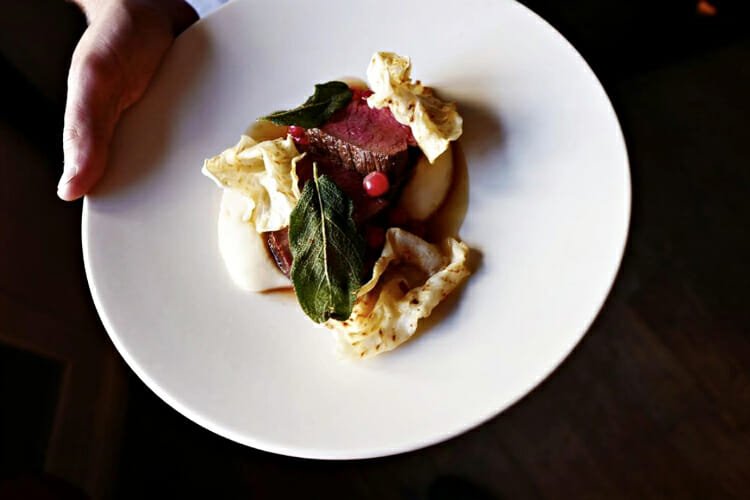 THE WINE
Unlike the food, the wine list hasn't zeroed in on any particular region – instead it's expanded out of Ellory's strictly European list, and gone global with a 100-strong line-up of bottles. And on top of all that? They've included a couple of bottles from their very own winemaking project in Campania (in collaboration with Michael Sager, Jackson Boxer and Stevie Parle) …and they're even making their own vermouth.
And the cherry on top of everything? The place is retaining its emphasis on music, and they've taken their vinyl collection with them from Ellory. The collection isn't vast, but it is very well-curated. After all…
…they're not looking to break any records.
NOTE: Leroy is open for dinner Tues-Sat (6pm-12am), plus Friday lunch (12-2.30pm). You can find out more and make a reservation at their website right HERE.
Leroy | 18 Phipp Street, EC2A 4NU
---
Like discovering great places to eat? Check out our pick of the best restaurants in Shoreditch