Picture this:
You're sitting on a beach, sipping a cocktail from a coconut, and feeling the warm sun gently caressing your face. You can smell a fragrant BBQ, and hear the sounds of water lapping somewhere.
That water is the Thames.
That beach is next to the Southbank Centre.
And that food & drink is being provided by the folks at Limin Southbank, who've somehow managed to recreate a small corner of their native Trinidad & Tobago right here in the capital. After an excellent pop up in Spitalfields they were all set for a permanent spot on the river, when the lockdown fairy came along and crapped all over their plans. Well, it hasn't dampened their enthusiasm, and they've finally managed to cut the ribbon on the place, and what a place it is.
You'll find it at Gabriel's Wharf, where it allllmost overlooks the Thames (you'll have to walk literally only a few yards to see it), and consists of a large white & blue Caribbean beach hut and terrace with a retractable roof, all surrounded by several tonnes of genuine sand. That sand is peppered with colourful tables, chairs, and palm trees, and we'd thoroughly recommend you take off your shoes just to feel the grains between your toes. Sandy socks be dammed, it's worth it.
To drink, there's all the tropical goodness you'd hope for, from rum punches, to daiquiris, to an inventive sorrel cordial & agave tonic. The aforementioned booze-brimming coconuts come filled with their own house-made rum & coconut water, and you can even get an entire pineapple loaded with piña colada. It's glorious.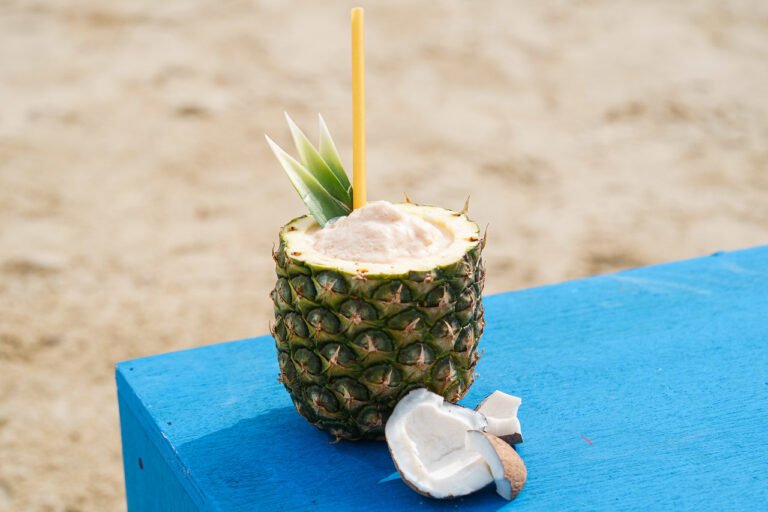 The food is all-Trinidadian, and comes scorched on a huge grill. But one thing many people outside of the country don't realise is that Trinidad is a melting pot of cultures – in fact, it's largest ethnic group is actually made up of Indo-Trinidadians. The upshot is that their food culture is totally unique, a fact that's reflected in menu items like banana blossoms (a surprisingly large and delicious purple flower) with coriander; some Masala chips (with curry leaves, garlic, and chilli oil); and some traditional Doubles: a pair of bara flatbreads with spiced chickpeas, grated cucumber, and sweet tamarind & hot pepper sauce. It's both cooling and fiery at the same time.
There's also a covered beach hut if the weather isn't playing ball, but this is one of the places you'll definitely want to be outside.
NOTE: Limin Southbank is open now, seven days a week. You can see the full menu, find out more, and book a table at their website right HERE.
Limin Southbank | Gabriel's Wharf, 56 Upper Ground, South Bank, SE1 9PP
---
Looking for outdoor dining ideas? Behold our list of (really good) places to eat outside in London