A Little Yellow Door?
It's lemon entry, dear Watson.
It's also the name of an absurdly good Notting Hill pop up, which has now cashed in all that success and found a new home on the Fulham Road, appropriately named the Little Blue Door.
The idea is simple: the place is ostensibly run by a group of flatmates, with a cosy & homely vibe, a party virtually every night of the week, and a strict ban on red trousers. Head on in, and you'll be greeted by the warm, welcoming feeling that frequently accompanies visits to a friend's place, mostly bought out by the sofas, houseplants, and coffee tables scattered about. And depending on what day of the week it is, you can expect…
WEDNESDAYS
Wednesdays are 'date nights' with 50% off food for tables of two (even if you are just friends) and a menu of globally inspired sharing-style treats to go with it, including the likes of pea & dill falafel with cranberry, carrot and cumin slaw; chilli & coriander labaneh; baked camembert with truffle honey; cayenne glazed hot wings served with a blue cheese dressing, and more.
THURSDAYS
Every Thursday involves live music, with a piano-aided singalong, and their now-famed emoji menu, in which you order food using only emojis. Seriously.🍗🍸
FRIDAYS & SATURDAYS
These are the dinner party nights which made the Little Yellow Door. In fact, they were sold-out for three years straight. There's a frozen blender bar, a resident DJ, party games, poetry readings, three-course dinners, and a toooon of cocktails.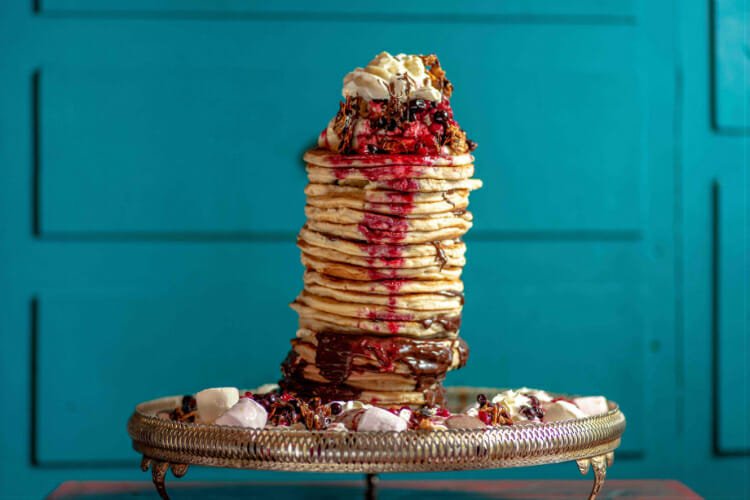 SATURDAYS (DAY)
The morning after. Saturdays are for brunch. A brunch with bottomless food and drinks, an egg station, and a BIY (Blend It Yourself) cocktail bar, where you can mix & match your own ingredients before mixing them together at the table.
SUNDAYS
Sunday is the day for kicking back and taking it easy, helped along by their 'Sunday Papers' program of movies, sport, retro gamin, and debates. And a finish that strong…
…is the end of the weak.
NOTE: The Little Blue Door takes bookings via WhatsApp, on 07538 229 096. You can find out more on their website right HERE.
ALSO NOTE: The Little Yellow Door is now permanently back, too – find out more here.
The Little Blue Door | 871-873 Fulham Rd, SW6 5HP
---
Like Theatre? Check out our guide to The Best London Theatre Shows right now.