Little Kudu is a fairly small, intimate, and fantastic new restaurant in Peckham.
That's the short version.
And if that's all you need to know, great. But there's a bit more to unpack here. So if, somehow, you've managed to avoid Amy Corbin & Patrick Williams' burgeoning South London empire thus far, here's a quick primer. It all kicked off with their original South African restaurant Kudu, named after the antelope-like animal native to the southern part of the continent: it's famed for being extremely difficult to hunt, for its beautifully curved horns, and for the annual kudu dung spitting championship, held since 1994.
The world record is 51 feet, FYI.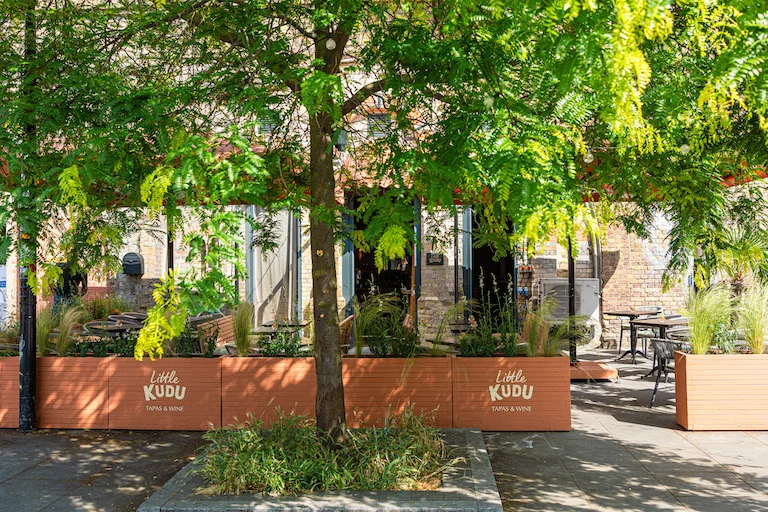 Kudu swiftly became one of the most popular restaurants in Peckham, winning itself a Michelin Bib Gourmand and spawning offshoots in the forms of Curious Kudu (a gallery-slash-event space), Kudu Grill (a braii restaurant), and Smokey Kudu, a cocktail bar within a railway arch. And over summer 2023, the duo decided to transform that arch space into a new restaurant: Little Kudu.
And we're happy to report that it's absolutely lovely.
So, what to expect? Well, first things first, they've added a large terrace outside the venue and loaded it with plenty of foliage (and heaters) for alfresco eating. Step inside, and you'll find a space that appears to be a surprisingly glamorous railway arch. What used to be a horseshoe bar projecting out into the space has now been replaced by a centrepiece marble table for communal dining. It's surrounded by intimate little tables, and overlooked by an all-new open kitchen which fills the air with the fragrant smell of South African spices.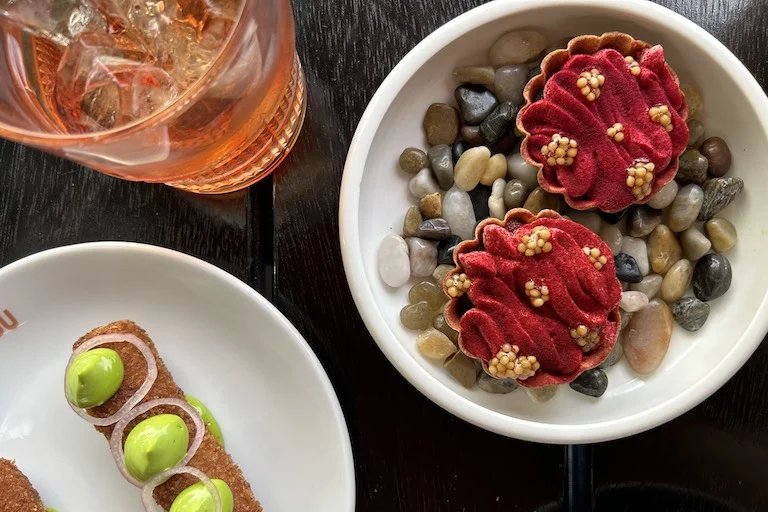 The dishes that those spices are going into are an all-South African lineup of sharing plates, sticking keenly to the recipe that's made Kudu's foodie-fiefdom so successful. Standouts on the menu (which changes seasonally) currently include a pair of absolutely beautiful jewel-red tartlets, with creamy chicken parfait sitting on a base of spiced pineapple and topped with mustard seeds; some crispy pig head croquettes piped with an electric green wild garlic aioli, and topped with a thin slither of chardonnay shallots to cut through the richness of the meat; and a tender bavette steak with a side of thick-cut chips, served with a delicious red sweet-pepper sauce and a cloud of of light, fluffy hollandaise.
And for dessert? There's a massive bowl of Don Pedro & Milo Mousse for two – it's somewhere between a mud pie and tiramisu, with a thick layer of cream topped with coffee, milo, flaky pastry, and a chocolate cookie crumb. It goes particularly well with their signature Smokey Kudu cocktail (smokey whisky, bourbon and sherry). And, being South Africa, there's a decent wine list alongside it all, with over 30 of the country's 'most sought-after' bottles to sample.
Thankfully though, the place is only about 50 feet from the station.
Spitting distance, really.
NOTE: Little Kudu is now open, Wednesday to Sunday. You can find out more, and book, HERE.
Little Kudu | 133 Queens Road, SE15 2AY
---
Making a night of it? Here are our favourite bars in Peckham