London Shell Co. Swain's Lane | Fishmonger & Seafood Bar with the Best of British Fish
The Group behind London Shell Co. have headed into uncharted water: land.
You see, for their most recent adventure the folks behind restaurants-on-barges London Shell Co. and The Grand Duchess have decided to do things a little differently to their usual and open a 30-cover restaurant on dry land – almost like a regular restaurant – and it's anchored on Swain's Lane by Hampstead Heath.
While you won't be taken on a cruise around North London's canals for this one, you will be served the freshest, highest quality seafood from around the British Isles, from the comfort of their very own intimate 30-cover restaurant which triples up as an off-trade wine shop and fishmonger. After all, regularity's not their style. And let us say first of all: don't worry, it doesn't smell like any old fishmongers you pass on the street.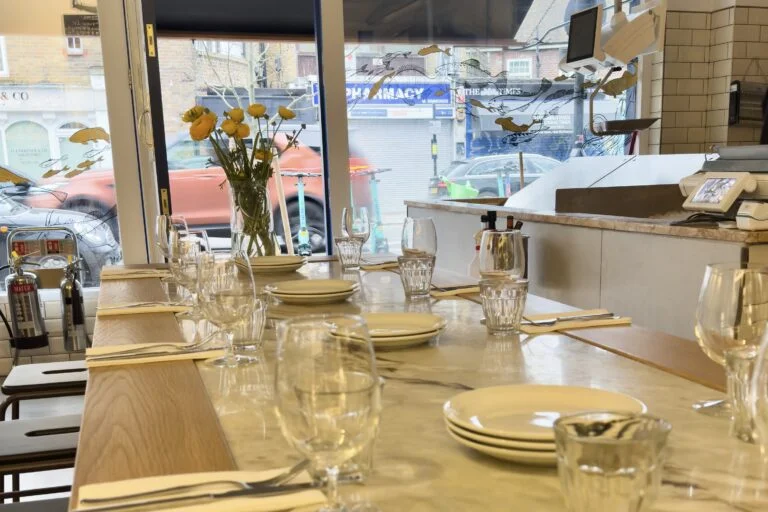 Inside you'll find the fish counter on the left, which sells all types of goodness found in the sea, and a large selection of wine at the back of the restaurant. Meanwhile the rest of the space is decked out in pale blue wood panelling, cloudy marble tables, and a mix-match of bar stools, old church chairs and a long wooden bench. And of course, it's not surprising that you'll see some nautical memorabilia dotted around the place.
As for the food – you'll consult the blackboards for that, simply because their dishes change so frequently due to what's been caught by their trusted fishermen. The board is separated into cold plates, hot plates (around 4-5 dishes), sides and deserts (around 2-4 dishes). It goes without saying that everything is super fresh, and the dishes are simple but beautifully prepared
and cooked. You can expect dishes like focaccia with crab butter, hake with oyster mushrooms, scallops served in their shell with wild garlic, and yes, oysters too (which get their own happy hour between 4-6pm every day – get them for £2 a pop, with £2 off your glass of wine or cocktail too).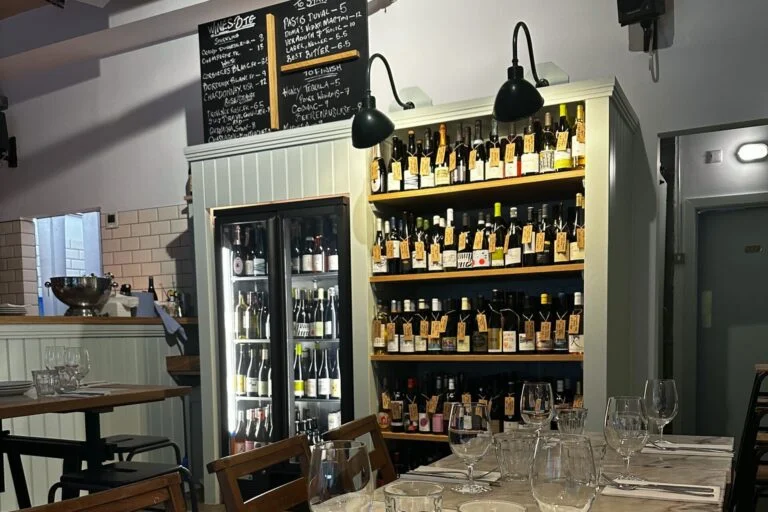 Because yes, all that wine that you saw at the start might give you a clue to what you'll be able to wash the food down with (besides water, obviously). Reds, whites, rosé, orange – take your pick. They've personally selected every bottle and are more than happy to help you find the perfect fit for your evening, and you can even decide to take one home with you too.
Which we expect will be a big hook…
NOTE: London Shell Co Swain's Lane is open as a fishmongers Tues-Sat (9am-5pm), and a restaurant for lunch (Tues-Sun, 12-3pm) and dinner (Wed-Sat, 6-10pm). You can find out more, and book a table, HERE.
London Shell Co. Swain's Lane | Unit 4, Sonny Heights, Swains Lane, London N6 6AG
---
Rather be closer to the water? Check out our guide to the best London restaurants by the river