You can't really miss Manteca.
Stroll along Curtain Road in Shoreditch, and opposite the American Carwash (what makes it American? We may never know), dangling from the corner of a sturdy-looking Victorian brick building with a pale grey facade, you'll see a sign shaped like a pig's head.
If that makes it look a bit like a butcher's shop, that's because it kind of is. It comes from a culinary super-duo of Smokestak founder David Carter and former Kitty Fisher's chef, Chris Leach. The former brings his butchery & charcuterie nous to the table (there's even a salumeria here for in-house cuts); while the latter has travelled across Italy and learn the noble art of fresh pasta. And those two skillsets complement each other very well.
Together, they opened a pop up at 10 Heddon Street in 2019 (which kick started the venue's string of near-perfect tenants), moved up to a long-term residency in Soho a couple of months later, and have at last – after vacuuming up heaps of critical flattery along the way – finally opened their own permanent restaurant in Shoreditch.
Which brings us neatly back to that pig.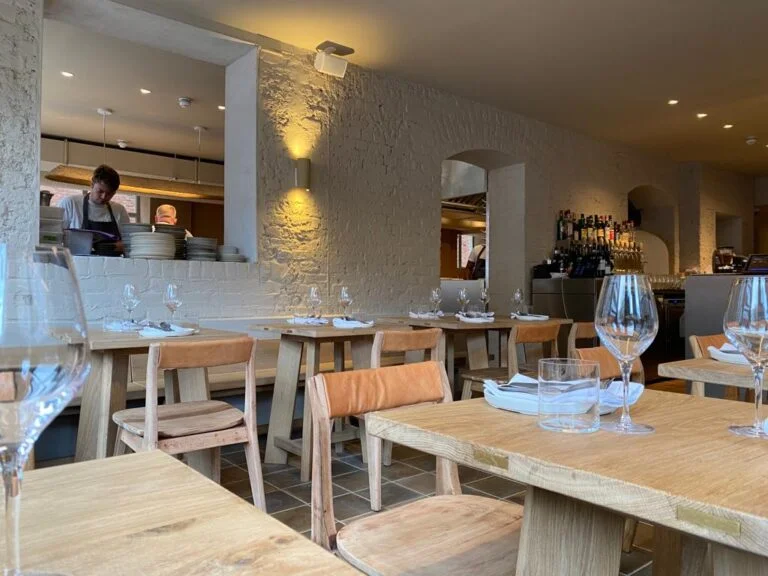 Head inside, and you'll find yourself inside a light, white-walled space with pale wood furnishings and pink marble tables. It's all split roughly in two – facing you at the entrance is the cocktail bar, where ice rattles in shakers while staff ferry tempting pasta dishes past you to the tables. Then, backing onto it on the other side of the space is the bustling open kitchen & the slicing counter, where big trays of pillowy focaccia and thick batons of salami sit next to one another, ready to be carved and plated up. This area of the restaurant is also held back for walk-ins, so you can get front row seats to the action whenever you're passing and feel the familiar craving for Italian nose to tail dining.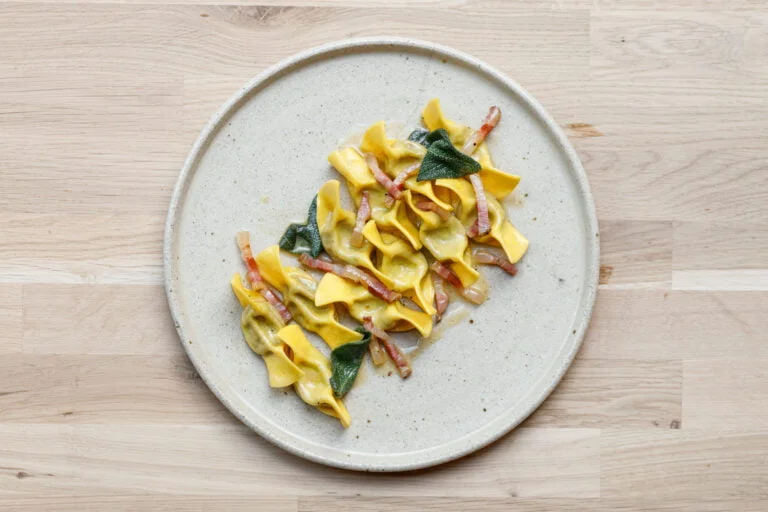 On the menu, you'll find the classics that made everyone swoon over the pop ups to begin with (the tonnarelli cacio e pepe with brown crab, and the 'nduja steamed mussels both make an appearance), as well as a whole raft of new dishes. You're now able to tear into soft clam flatbreads; little bundles of casoncelli pasta with crispy pancetta & sage; rich, 70-day aged txuleta steaks; and fat, ribbony fazzoletti pasta with a duck ragu.
And as for the liquid companionship? There's a globe-trotting list of low-intervention wines going toe-to-toe with a cocktail menu of creative house originals – the Madame Butterfly mismatches upxes americano cocchi herbal wine with sake & orange water, while the Queen of Savoy throws gin & vermouth together with their own house-blended artichoke amaro. Of course, you can have both wine and cocktails if you want.
No need to be pig-headed about it.
NOTE: Manteca is open for lunch and dinner, Mon-Sat. You can find out more, and make a booking at their website right HERE. They also reserve spaces at the counter for walk-ins.
Manteca | 49-51 Curtain Road, EC2A 3PT
---
Heading for a nightcap after? Check out the best bars in Shoreditch…