Italian.
It rolls off the tongue almost as nicely as it rolls onto the tongue.
And there aren't many better examples of this than Marcella, the sister eatery to top Peckham restaurant Artusi. Finding itself hugging the Thames a couple of postcodes away in Deptford, Marcella brings that quintessential, beautifully simple chic that the Italians seem to have nailed sometime back in the '50s to both its floors – an airy dining room upstairs, with a moodier, private dining room downstairs – while the kitchen is putting out the kind of beautifully simple & delicious dishes the Italians seem to have nailed back, well, basically since forever. Let's start with:
THE FOOD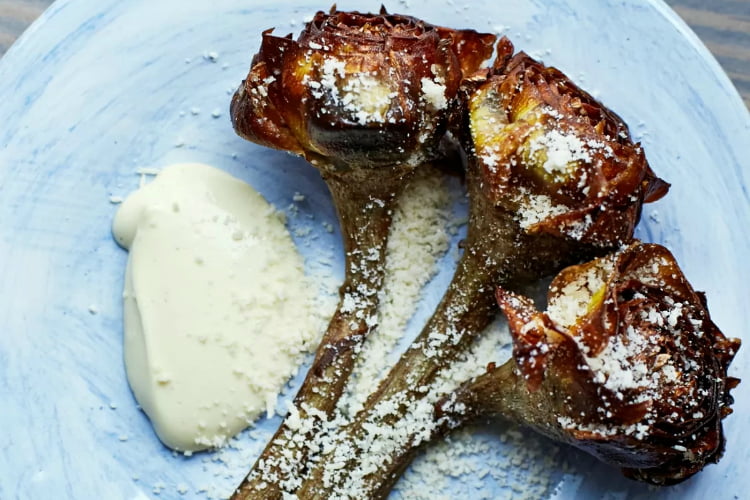 The menu keeps things uncomplicated with only a dozen or so dishes in total, each cooked to unbelievable levels of perfection. The dishes are split between small plates (fried artichokes with aioli, yes please); pastas (tagliatelle with datterini tomatoes and confit garlic, yes please); and large plates (cuttlefish with borlotti beans & prosciutto, for example). And on Sundays they offer an insanely good value three-course feast for £20.
…And that's not to mention the desserts, which include doughnuts; peaches with chamomile & creme fraiche; and scroppino, a lemon sorbet whipped with prosecco. And speaking of prosecco…
THE DRINKS
Like the food menu, they keep things manageably streamlined here with a pair of proseccos (prosecci?), a few choice Italian wines, and some classic Italian aperitifs – negronis, spritzes, 'Vespa' Martinis, Frangelico Sours, etc. Just don't overindulge…
…lest you find yourself rolling out of the place.
NOTE: Marcella is open for dinner Mon-Sat, lunch Tues-Sat, and Sundays all day, from 12-8pm. You can find out more, and book, at their website right HERE.
Marcella | 165A Deptford High St, SE8 3NU
---
Love Italian? Check out the best Italian restaurants in London